Atlantis Submarines Barbados – Online only Early Booking Offer Save US $25 per adult.  Book Online at http://barbados.atlantissubmarines.com/special-offers
Extended to October 31st 2012
Sept 22nd 2012 – The Shallow Draught, Bridgetown, Barbados – Atlantis Submarines Barbados announces the launch of its early booking offer to provide real value to those planning their winter getaway.
All reservations made on line http://barbados.atlantissubmarines.com/special-offers from Sept 23rd and by September 30th 2012 (Extended to October 31st 2012) will have US $25 taken off.  The price per adult will go from $104 to $79 for this limited time only.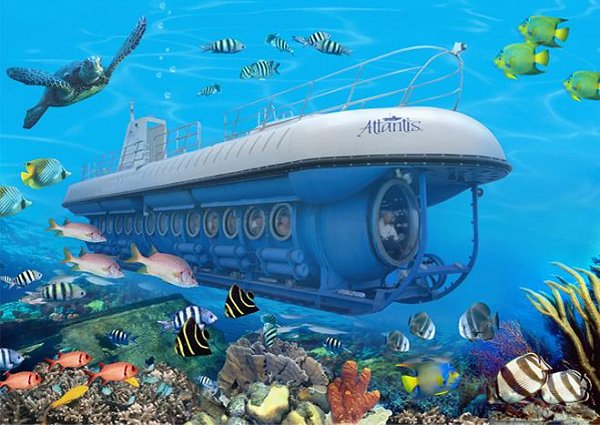 "We decided to double our 25th anniversary offer which gave couples US $25 off.  This early booking offer is a whopping $50 off for the couple or US $25 off per person", General Manager Roseanne Myers explained.  "We know people are hurting and still want to travel to get away from the cold, so we wanted to offer persons planning early for winter 2012 / 2013 vacations in Barbados.  The booking window is short but the travel window is targeting those visiting us   between November 2012 and June 2013."
The family friendly, Atlantis Submarine adventure is one of the most unique and highly recommended attractions in Barbados. This awesome experience is available during the day for the entire family and at night for the more romantic and adventurous spirits to enjoy".  Imagine yourself in a real submarine, with view ports all around, fully submerged in the aquamarine Caribbean Sea, as curious fish peek in and sea fans sway. This fully narrated "must-do" undersea voyage, can take you to a shipwreck at 130 feet, during the day or night. Our professional crew will help you (to) create safe, fun, unforgettable memories, while preserving the environment.
Atlantis Submarines Barbados operates two 48 passenger submarines that provide the opportunity to see the underwater world in safety and comfort.   For more information visit our website www.barbados.atlantissubmarines.com, join us on Facebook; or send email enquiries to bdsres@atlantissubmarines.com
---
Find your ideal Barbados accommodation...