Barbados Holetown Festival
The Holetown Festival commemorates the anniversary of the first settlement of Barbados at Holetown in February 1627.
The week-long festival begins in mid-February with the opening celebrations taking place at the Holetown Monument.


The festival highlights local arts and crafts as well as Barbadian culture and history, and events typically include: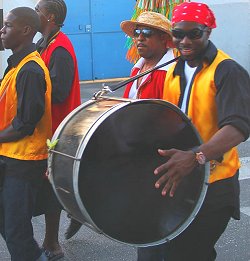 historical lectures
fashion show
beauty contest
street parade with tuk band
tattoo show
exhibitions
concerts
theatrical presentations
sporting events
antique car parade
Stroll through the tents setup in Holetown at the festival village, where talented local artists showcase and sell their creations, including pottery, fine art, soaps and candles, straw works, metal sculptures, clothing and bags!
And of course sample delicious Bajan food (fish cakes, macaroni pie, barbecue chicken, pudding & souse), washed down with a cold Banks Beer or a shot of Barbados rum!
One of the most popular events at the Holetown Festival is the Police Tattoo, an outdoor night show featuring the men and women of the Royal Barbados Police Force. The police force band, mounted troop, canine unit and motorcycle unit are usually on display.