Barbados All Inclusive Holidays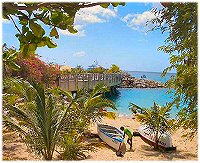 Barbados offers the ultimate in all inclusive vacations, with vacation rentals paired with your choice of island activities.
The beauty of this tropical paradise, the luxury and charm of the island, and the friendly people waiting for you, make Caribbean holidays in Barbados a truly enjoyable experience - one to be repeated over and over again, as many of our guests do!
The Barbados all-inclusive experience typically includes a stay at a 3* or greater resort, meals and drinks, activities and facilities for children, and watersports.
Benefits of a Barbados all inclusive vacation include:
You know exactly how much you're paying ahead of time.
You avoid additional tipping.
Most all-inclusives resorts are family-friendly.
All inclusive packages typically include a range of leisure & recreational activities and entertainment.
Many travel experts agree that when you prepay for your vacation, you enjoy the getaway even more because while on vacation you don't dwell on the money you've spent.
Tips for planning your Barbados all inclusive holiday:
Be sure that all-inclusive is the right choice for you. If you're more the adventurous type that wants to explore the local culture by trying off-site restaurants and activities, all-inclusive may not be for you.
Be clear upfront of exactly what is included, some all-inclusives charge additional for premium drinks and services such as babysitting.
If traveling with children, confirm that the resort offers kid-friendly menus and activities.
Barbados All Inclusive Resorts