Barbados Recipes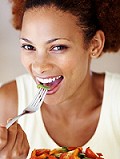 Missing Barbados and its tasty treats? Why not cook up some Barbados cuisine in your own kitchen? Recreate and relive your Barbados memories with some tantalizing Barbados dishes!
If you have some Barbadian recipes of your own or tips which you would like to share, feel free to post your comments below.
Traditional Barbados dishes & delights
Barbados Cooking Classes
Recommended Cookbook
Local Beverages
Here are some fantastic Barbados beverages from Rita G. Springer's Caribbean Cookbook. These are sure to bring back wonderful memories...
Rum Punch

Ingredients:

One of sour - One part pure lime juice (1/4 cup)
Two of sweet - Two parts sugar (1/2 cup)
Three of strong - Three parts Barbados rum (3/4 cup)
and Four of weak - Four parts water (1 cup)

Method:

Dissolve sugar in water, add rum and lime juice. Blend well. Chill and serve with bitters or nutmeg. Makes 4 servings.

Rum Cocktail

Ingredients:

2 wineglasses rum
1/4 cup honey or granulated sugar
1/2 cup lime juice
1/2 teaspoon bitters

Method:

Combine ingredients and whisk until well blended. Pour into cocktail glasses half filled with finely crushed ice. Serves 4.

Punch a Creme (a Christmas favourite)

Ingredients:

3 eggs
1 wineglass rum
1/2 tin (175g or 7oz size) evaporated milk
Piece of orange or lime rind
1 tin (325g or 12oz size) condensed milk
1 teaspoon bitters

Method:

Beat eggs well with the rind. Remove rind. Add milk. Stir well. Add rum and bitters and mix thoroughly. Bottle. Chill and shake well before serving. Makes 12-16 servings in liqueur glasses.

This is a popular Christmas drink.

Caribbean Cocktail

Ingredients:

1/4 cup rum
2 tablespoons lime juice
1 cup fresh pineapple juice
1 teaspoon bitters
1 tablespoon caster sugar
soda water

Method:

Shake all ingredients well together, put some ice into tall glasses and fill halfway with mixture. Finally pour on soda water to fill glasses. Stir and serve. Makes 4 servings.