Bajan Pepper Sauce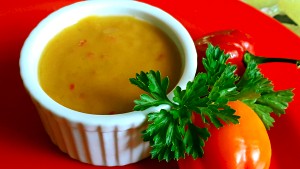 Bajan pepper sauce / Bajan hot sauce is a staple in every Bajan household and a favourite treat for any lover of Caribbean cuisine! This hot and spicy sauce will add a zesty kick to any meal. It's great as a dipping sauce or mixed in with a nice Bajan seasoning rub. Try it on your fish, poultry, meats, even veggies!
Whilst there are many ready-done brands of pepper sauce available commercially, flavour, intensity and consistency can vary widely. Here's a suggestion! Cook up your own homemade version to find just the right balance of delish for your palate!
Recipe
10 scotch bonnet (bonney) peppers, chopped
1 large onion, chopped
1 tbsp tumeric powder
1 tbsp prepared mustard
1 tbsp brown sugar
2 tbsp vegetable oil
1/4 cup vinegar
1/2 cup water
1/2 cup water
Salt to taste
Blend the chopped peppers, onion and other ingredients in a food processor or blender until slightly chunky.
Add the water gradually to assist the blending process.
Pour mixture into saucepan and cook on medium heat for approximately 20 minutes.
Add water if necessary to bring to desired consistency.
Remove pepper sauce from heat, pour into sterilized jars and allow to cool.
Buy Online
Don't have the time to make your own batch of Barbados pepper sauce? No problem, just order it online.