Books and Magazines
Barbados Books
Amazon offers a few Barbados travel guides and books, available both as ebooks and printed. Some of our favourites are:


Richard Ligon offers an intriguing look at life in Barbados in the 17th-century in his True and Exact History of the Island of Barbados.
Barbados Magazines and Newspapers
Go Barbados Magazine
GO! Discover an island of endless possibilities, with Go Barbados Magazine!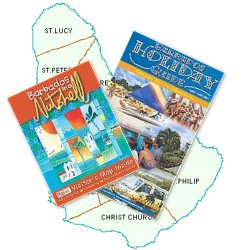 Local daily newspapers include The Barbados Advocate, the Daily Nation and Barbados Today. In addition to local news, they publish regional and international news stories. The Barbados Advocate and the Daily Nation are available in print and online. Barbados Today is an online publication.
There are several local and Caribbean magazines covering an array of topics such as sporting activities, architecture and health.
Visitor Guides
Several visitor guides, most including island maps, are available for free at hotels, restaurants and sites. Some popular choices are Go Barbados Magazine, Ins and Outs of Barbados, Barbados In A Netshell and Barbados Holiday Guide.