Preparing The Trip: Barbados Dress
What To Bring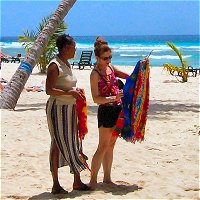 Bring light clothes suitable for the tropics - loose tops, shorts & dresses for the ladies, shorts and polos for the guys.
Cotton dresses and light jackets for formal wear. Some restaurants do have a dress code plus it's nice to dress up sometimes even when on holiday!
Casual slacks and lightweight sportswear for the times when you are not in a bathing suit.
Pack comfortable shoes including sandals, flip flops and sneakers.
Bring multiple swimsuits.
Wide brim hats and baseball caps will give your face additional protection from the sun.
Beachwear should also include sunglasses and sunblock.
While Barbados is a fun holiday island, there are dress codes, and because of 300 years of conservative British heritage, formal attire is still seen at times other than weddings and funerals. Business men wear a shirt and tie and sometimes a jacket. Women wear smart dresses.
It's a good idea to wear pants and shirt when visiting the bank, it looks more respectful and gives you a pocket for your wallet.

Bathing suits are best for the beach, beach bars and the pool.
Please note that it is against the law to wear camouflage clothing and to carry items made of camouflage material.
Packing Tips
Roll, don't fold: tightly rolled clothes take up less space than folded ones and are less likely to getting deep wrinkles.
Make a list: Compile a list a few weeks ahead of your travel dates; compile the needed items (and purchase additional or new items); always keep in mind your airline's baggage policies.
Packing the heaviest items closest to the wheels of a rolling suitcase makes it easier to roll.
Stuff smaller items such as socks, underwear, and charging cords into shoes.
Keep all valuables & essentials (including prescriptions and travel documents) in your hand luggage, along with a spare change of clothes.