Barbados Conference and Convention Facilities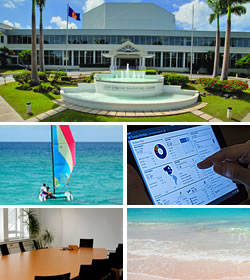 Barbados is the ideal location for business conferences and corporate meetings. Our Lloyd Erskine Sandiford Centre has won several awards for the Caribbean's Leading Conference Centre.
Conference facilities range from large meeting halls for trade shows or conventions to smaller rooms for workshops and group meetings.
Hotels and conference centres will provide most of the equipment required and will assist in locating support services for your meetings. Special group rates are available at most hotels.
And when business is over, there is all of Barbados to enjoy: beautiful white beaches, a variety of watersports, duty free shopping, island safaris, underground caves, submarine tours, swimming with turtles, cultural dinner shows, top class restaurants, and exciting nightlife.
Barbados provides the right opportunity for a mix of business and pleasure!
Barbados Hotels With Conference Facilities
Several hotels in Barbados offer conference and convention facilities. There is the added convenience of staying in the hotel where the conference or convention is being held. For smaller conferences/conventions (less than 150 people) these facilities are ideal, but for larger meetings a Convention Centre is recommended.
Hotel
Location
Rooms & Capacity
Accra Beach Hotel
Rockley, Christ Church
Khairoon - up to 250 persons. Can be converted into two (2) rooms holding up to 80 persons each.
Karissa - up to 60 persons.
The Leanna - up to 26 persons.
Savannah Beach Hotel
Hastings, Christ Church
Sophisticated conference and business centre. Offers 5,000 sq. ft. of meeting space with 5 flexible meeting rooms. Accommodates up to 150 - 250 guests in its largest ballroom area.
Convention Centres in Barbados
Convention Centre
Features
Capacity
Lloyd Erskine Sandiford Centre
164 000 sq. ft
Fully air-conditioned facility with access for the physically challenged, the centre boasts of state-of-the-art communications equipment with WIFI connectivity as well as multilingual translation equipment. With over 11 meeting rooms, the facility also has a Garden theatre and on-site dining facilities catering to most dietary needs. The Lloyd Erskine Sandiford Centre is the recipient of multiple World Travel Awards for the Caribbean's Leading Conference Centre.
1200
Conference Planners
Event and function planners can help you to arrange your conference/convention - from a choice of venue, to banquets and receptions. These companies have the knowledge of Barbados and the experience in conference planning to ensure that your conference is a success.