Barbados Parishes
Our Parishes
The island of Barbados is divided into 11 parishes (similar to states or provinces), each with its own unique character and special attractions.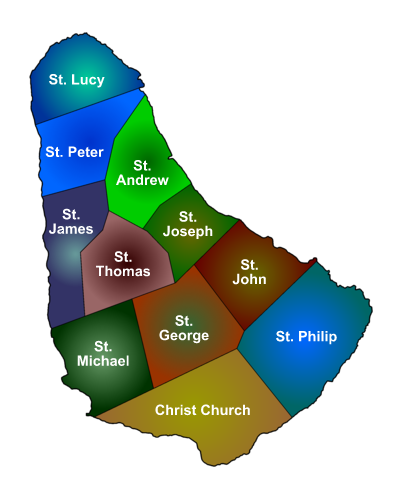 Where to Stay
Most hotels, guesthouses and vacation rentals are located in Christ Church on the south coast and in St. James and St.Peter on the west coast. Stay in these areas if you wish to be within walking distance of great beaches, excellent restaurants and exciting nightlife. However there is accommodation across the island and Barbados is small enough (just 166 sq. miles) that you're just a short drive away from everything. There are lovely guesthouses in the countryside, ideal for a true Caribbean getaway.
Beaches
The calmest beaches can be found along the western coastline in St.Peter, St. James, St. Michael and Christ Church. As you move further south the waves become more lively, creating excellent conditions for a variety of watersports. The eastern and northern coasts are dotted with small bays but there are string currents so be very careful.
Getting Around
Hiring a car is an excellent way to explore Barbados. There are many reputable car rental companies on the island, most offering free delivery & pick-up, unlimited mileage and free island maps. Be sure to read our Barbados driving tips before heading out.
If you don't wish to drive in Barbados, there are many island tours to choose from. These range from large air-conditioned buses to rugged 'naturally air-conditioned' land rover safaris!
For a unique view of the island try a hike, zipline, or submarine tour.