Coconut Turnovers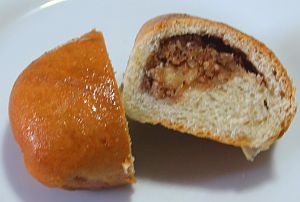 Barbados turnovers are yeasty baked buns stuffed with sweetly-seasoned coconut. As they bake an amazing aroma fills the air and you can hardly wait for them to be ready!
When visiting Barbados be sure to stop at a local bakery to sample a genuine Bajan turnover. You can also use the recipe below to make your own...
Recipe
Dough
2¾ cups all-purpose flour
½ teaspoon salt
4oz cold butter (unsalted)
¼ cup white granulated sugar
4 teaspoons instant yeast
1 cup warm milk
⅓ cup sugar water (dissolve sugar in water)
Brown sugar
Filling
2 cups grated or shredded coconut (fresh or frozen; NOT dried coconut)
¾ cup white granulated sugar
¼ teaspoon allspice
¼ teaspoon ground cinnamon
1 teaspoon almond essence
Method
Mix the flour and salt, then cut in the cold butter until you have a breadcrumb-like consistency.
In a separate bowl, mix the white sugar, yeast and milk.
Combine the wet ingredients with the dry, mixing to form a dough. Transfer the dough to a lightly floured board and knead gently for 1-2 minutes.
Place the dough in a lightly oiled bowl, cover, leave somewhere warm and let rise for about 1 hour (the dough should double in size).
Combine the filling ingredients in a bowl, stirring well so that the sugar begins to dissolve and the mixture is moist. Set aside.
Punch down the risen dough and lightly knead it for half a minute. Cut the dough into equal pieces. With each piece, roll into a 3-inch circle, place a heaping tablespoon of the filling in the centre; spread the filling out to ½-inch from the edges. Lift one end of the dough to the other, folding and sealing the ends together. Form into a loaf shape.
Place each turnover on a greased or parchment-lined baking sheet, seam-side down. Cover and let rise for 30 minutes.
Brush turnovers with sugar water and sprinkle with brown sugar, then place in an oven preheated to 350F. After 18 minutes, brush again with sugar water, sprinkle with more brown sugar, and allow to bake for another 2-3 minutes. This will help develop a sugary crust. Remove from the oven and cool on racks for 15 minutes.
Turnovers are best eaten warm, when the filling is still gooey :) Enjoy your turnover with a glass of juice or tea.
Barbados Cooking Classes
Recommended Cookbook