Fish Cakes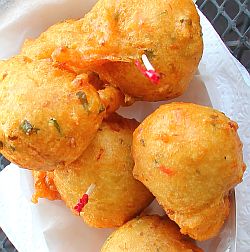 Fish cakes are a traditional Barbados breakfast dish. They may be eaten on their own or served with delicious sweet bakes. For those on the go , the preferred way of enjoying fish cakes is sandwiched in a "salt bread", this is known as a "bread and two".
Fish cakes are also a favourite appetizer at restaurants and finger food at cocktail parties.
Recipe
1 onion, diced
1 cup flour
1 tsp baking powder
1 egg lightly beaten
1 small hot pepper, finely diced
chopped parsley, thyme and marjoram
1 lb boneless, skinless salt cod
1 cup water
To prepare the salted cod, boil in 6 cups of water for 4 minutes. Throw off the water and boil a second time for 3 minutes. Flake the fish with a fork.
In a bowl, combine the flaked fish with the other ingredients. Stir until a thick batter forms. You can add more water or more flour to get the desired consistency.
Drop the batter by teaspoonful into oil over medium heat, being careful not to overcrowd the pan. You may need to turn the heat down to medium-low if the fish cakes are burning before being fully cooked.
Drain on paper towels. Fish cakes are best eaten hot!
Fish cakes are even more delicious when dipped in traditional Barbados pepper sauce or Marie Rose sauce made by combining mayonnaise, ketchup and pepper sauce.
In Barbados we love fish cakes so much, we even wrote a song about them!
Barbados Cooking Classes
Recommended Cookbook