Conkies
The dish
Conkies are a favourite treat for many Bajans! They are traditionally made during the month of November to celebrate Barbados' Independence.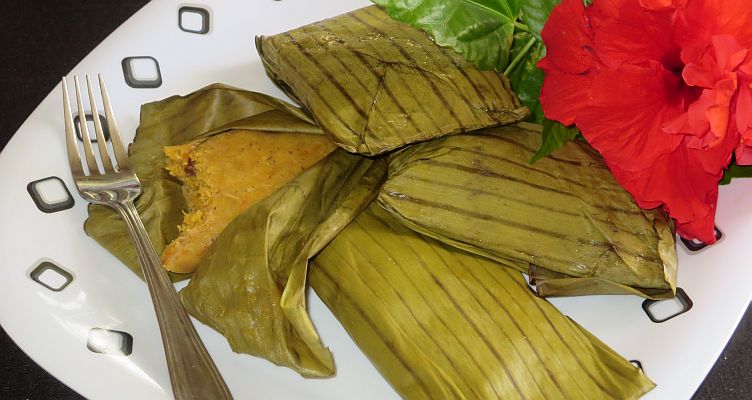 Recipe
2 cups corn flour
1/2 cup plain flour
1 cup grated coconut
3/4 lb grated pumpkin
1/2 lb grated sweet potato
6 oz melted butter or margarine
1 cup whole milk
1 egg (beaten)
3/4 lb brown sugar
4 ozs. raisins
1 tsp spice
1 tsp almond essence
1 tsp grated nutmeg
1 tsp salt
Fresh Banana leaves
Mix the coconut, pumpkin, sweet potato, sugar, spices, raisins, flour, corn flour, and salt together in a large bowl.
Add the beaten egg, melted butter/margarine, and milk. Mix thoroughly by hand to combine. You should have a thick mixture that drops slowly from a spoon. Add more flour if the mixture is not thick enough; add a bit more milk if it is too thick.
Fresh green Banana leaves are traditionally used to wrap the conkie mixture. If you have these, strip leaves from stalk with a sharp knife then briefly singe them over an open flame to make them more pliable. Cut the leaves into individual 8" squares.
Spoon 2 to 3 tablespoons of the mixture into the centre of the banana leaf. Fold the leaf around the mixture, taking care not to rip the leaf.
Steam the conkies on a rack over boiling water in a large saucepan for 1 hour or until they are firm.
Unwrap and enjoy!
Substitutions
The Banana leaves can be substituted with wax paper or foil.
Barbados Cooking Classes
Recommended Cookbook