Cassava Pone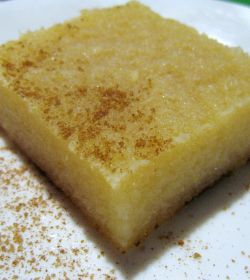 Pone is a sweet tasty treat made from cassava root, a ground provision popular for centuries in the Caribbean.
You can purchase cassave pone at Barbados bakeries and supermarkets, or use the recipe below to make your own...
Recipe
Ingredients
3 cups dry cassava flour
2 cups grated coconut
1½ cup sugar
¼ lb seedless raisins
2 eggs
3 cups milk
¼ lb shortening (melted)
½ teaspoon orange peel
1 teaspoon salt
1 teaspoon vanilla essence
1½ teaspoon mixed spice
Method
Mix the dry ingredients together in a large bowl.
In a separate bowl, combine the melted shortening, milk, beaten eggs and essence.
Add the wet ingredients to the dry and mix well.
Pour the mixture into a well greased shallow baking pan or dish. Glaze with sugar and water.
Bake at 300°F for 1½ hours or until a skewer comes out clean.
Remove from oven and allow to cool for 10 minutes, then slice into squares and enjoy!
Barbados Cooking Classes
Recommended Cookbook