Macaroni Pie (Macaroni and Cheese)
The dish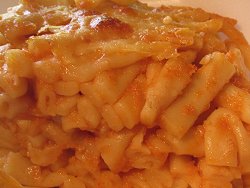 One of the most popular foods in Barbados is macaroni pie (also know simply as 'pie')! It's our own take on macaroni and cheese, specially seasoned and baked to perfection. The Bajan version is made with macaroni tubes rather than elbow macaroni.
You'll find macaroni pie on the menu at many local restaurants and at the road side vendors. Each restaurant and each Bajan has their own special recipe but here are the basics....
Recipe
1/2 pound tubed macaroni
4 cups grated cheddar cheese
1 cup evaporated milk
1/3 cup ketchup
1 tbsp. yellow mustard
1 small onion, grated
1 egg, beaten
Bring salted water to a boil in medium saucepan. Break the macaroni tubes into thirds and add to the boling water. Cook uncovered until macaroni is tender but still firm.
Preheat oven to 350F (180C).
Drain the macaroni and return to the saucepan.
Add the onion, cheese, milk, ketchup, mustard and egg. Add salt and pepper to taste. Herbs such as marjoram and thyme can also be added.
Pour into a greased dish and top with more grated cheese. Fine breadcrumbs can also be added as a topping.
Bake for 30-40 minutes or until golden brown.
Macaroni pie can be served as a side with fish, chicken, pork, stew... whatever you wish really.
Barbados Cooking Classes
Recommended Cookbook