Barbados Snow Cones (Sno-cones)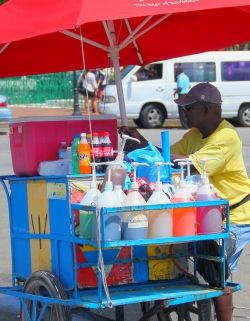 You will often hear them before you see them.... a ring of a bell or sharp toot of a horn gets your attention! There he is - the Snow Cone man - peddling a bicycle with an ice box (full of shaved ice) and flavourings attached, all under a huge bright umbrella. They are present at all popular outdoor events and you'll also spot them hanging around the more popular beaches and in Bridgetown, ready to help you quench your thirst!
Children love the bright, almost fluorescent colours! Some people even make their selection by colour - red, blue, green, etc. More refined palettes prefer local flavours such as tamarind, ginger, coconut, and even sorrel!
Heated debates can ensue between friends about whether or not sweet condensed milk should be added.
Truly, a snow cone is good whatever the flavour and with or without milk.
Snow cones (or sno-cones) are engrained in our culture with generation after generation drawn to this sugary icy treat!
So the next time you visit Barbados, look out for the snow cone man and give one a try!