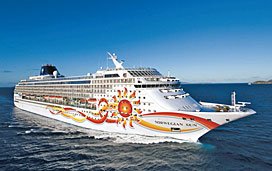 The Norwegian Sun has become the latest cruise ship to include Barbados as a port of call!
On October 19th the vessel docked at the Bridgetown Port with the over 1900 passengers on board looking forward to enjoying a day on our lovely island.
Barbados will remain on the itinerary of the Norwegian Sun throughout the winter season as part of their 10 day Southern Caribbean cruise. The ship  docks in Barbados on Fridays at 8:00 am and departs the island at 5:00 pm.
During their brief stay in Barbados passengers can simply relax on our lovely tropical beaches, enjoy an island adventure in the form of a safari tour, submarine ride or zipline excursion, or explore the island's World Heritage Site and museums.
The Barbados port is already one of the most advanced in the Caribbean and consistently wins international awards for its facilities and excellent service. The island is now embarking on an extensive upgrade and expansion of the port with the construction of a multimillion dollar cruise facility that will support docking by six to seven large cruise ships daily. View the full schedule of the Barbados port.
---
Find your ideal Barbados accommodation...