Accra Beach, also known as Rockley Beach, has always been one of the main places on the island to meet old friends and make new acquaintances. Just a relaxed smile over the shared experience of being on one of the prettiest places on earth is enough to start a light, unencumbered exchange with someone from Barbados, but perhaps even from Costa Rica, Argentina, Brazil, USA, England, Italy, Germany or Sweden. Everyone seems happy to get on with their own life, but just as happy to share a smile.
The four year olds are forever making castles with their buckets and spades, and the eight year olds are pulling their boogie boards back into the sea after catching a wave. The singles are reading their books or basking flat out on their towels in the sun. This beach is comfortable for everyone.
It's a great beach for early morning exercise and long enough for a worthwhile walk. You can stick to Accra for your walk, but it is quite wonderful that there is no hindrance to you just continuing all the way to the Hilton hotel and the Garrison Historic Area. In fact, with very little interruption, your beach walk can take you all the way from Accra to Bridgetown!
Even if you've been to a business meeting, perhaps at the Accra Beach Hotel & Spa, you can take your shoes in your hand and let the surf sooth your ankles and the soles of your feet while you let the impressions of the day settle in.
As you walk you'll realize that the sand is a fine pink, tan and white mix made of finely ground shells and coral, restful to the eye.
If you've decided to swim, you'll continue to walk on this fine sand all the way out until you lift your feet in the crystal clear water and start to swim or float.
As you float out there, you'll see that the beach is quite picture-perfect with its umbrellas, Coconut, Almond and Casuarina trees as a backdrop. These sweepingly graceful tall Casuarinas trees are not called Mile Trees for nothing.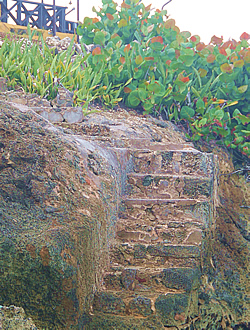 At the South end of the beach there is a small scene of coconut trees and a little coral cliff with old stone steps leading up to Champers restaurant (very popular). The steps don't actually take you to the entrance. They are just pretty to look at. You'll have to walk around to the front.
There are some permanent fixtures at Accra, like 'Maddog" Jeffrey Price who has been there for 20 years and sells his handmade leather shoes; and also Miss P's. She's been there since 1963 and was the first to sell her cheese cutters at the beach. Although she's retired now you will still find her granddaughter at the hut. On Sundays at Miss P's, you can get a typical Bajan lunch with rice and peas, macaroni pie, chicken and flying fish.
During the week there are drinks, fish or chicken and chips, and Bajan fish cakes from the huts.
There are other huts selling dresses, beach bags, beach towels and boogie boards. And near the road it is good to support our local coconut man who has also been there for years. With a couple of chops there will be a hole big enough for a straw in the top of your coconut and this water is better than the coconut water found in many other countries. You can have the jelly as well and then you may not even need lunch!
Just across the road from Accra Beach is Chefette for local fast food. Hundreds of Barbadian teenagers gather there on Friday and Saturday nights: "That's where you'll find the crowds. It's a good place to lime and hang out" I'm told by a 17 year old girl.
Also across the road, is Quayside Centre with a variety of eating places including Chinese and Mexican, and a few shops. Just Grillin' offers Jerk Chicken, fish, steak, shrimp, salads, grilled potatoes and grilled vegetables. And what a potpourri of guests they have! There are business men in their long sleeves and ties, a mother and daughter out to lunch catching up on family news. There are couples and friends, shorts and dresses. And like Accra Beach, these people are from all over the world.
Or you may choose to take your computer and sit at the Italia Coffee House where there is free WiFi.
As you leave for the day, you may well wonder: Where else in the world are there so many open windows to these idyllic scenes of white sand beaches and clear blue seas as along the South Coast of Barbados?
---
Find your ideal Barbados accommodation...