Tag:
caribbean
Every year between May and October, many Hawksbill turtles make their way to the shores of the Caribbean island of Barbados, where they were born, to lay their eggs. Green turtles and Leatherbacks also nest on our shores. If turtle hatchlings become disoriented on emerging from the sand, they are collected by trained volunteers and later released. […]
The Caribbean island of Barbados has a reputation as a luxurious destination. Maybe it's the many celebrities who stay on private yachts anchored off the island or in luxury villas and resorts on Barbados' west coast. Maybe its the array of exquisite restaurants, immaculate golf courses and pampering spas. Or maybe it's the fact that […]
Windstar Cruises offers several Caribbean cruises that include our lovely Caribbean island of Barbados! St. Martin to Barbados Voyage A 7 day cruise aboard the Wind Spirit Departs  Marigot, St. Martin December 17, 2011 Gustavia, St. Barthelemy Falmouth Harbour, Antigua Les Saintes, F.W.I. Roseau, Dominica Le Marin, Martinique Bridgetown, Barbados Fares start at $2,399 per person […]
Steel pan music is most associated with our neighbouring islands of Trinidad and Tobago where the artform was born, but steel pan music is also extremely popular in Barbados as seen in the several pan events included in our Crop Over summer festival. Steel pan events found on the 2011 Barbados Crop Over Calendar include: […]
Did you know that the Caribbean island of Barbados is home to four historic lighthouses? South Point Lighthouse, Barbados The oldest of Barbados' lighthouses, South Point was assembled on the island in 1852. It had been shown at London's Great Exhibition  in 1851. This and Needham's Point lighthouse are in the best shape, however none […]
The Barbados Culinary team did the island proud by capturing a Gold team medal at Taste of the Caribbean 2011! Mitchell Husbands of Barbados was also awarded the "Chef of the Year" honours. Barbados was very much among the awards with team members winning the following: Gold medal: Janelle Crawford Gold medal: Andre Nurse Gold medal: Wilmore Jordan Silver […]
Barbados' capital city Bridgetown and the nearby historic Garrison have gained approval to the prestigious World Heritage List! Take an interactive tour | View the photo gallery In approving the nomination the World Heritage Committee stated that the area was an outstanding example of British colonial architecture. Bridgetown was established in 1628 and quickly became the hub of […]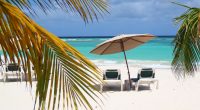 travel.usnews.com ranks Barbados in its "Most Relaxing Beaches" list for the United States and the Caribbean!
Update: Barbados' Bridgetown and Garrison added to World Heritage List! Take an interactive tour of the area | View the photo gallery of historic building Two sites in Barbados have been nominated for inscription on the World Heritage List overseen by the United Nations. These sites are the capital city of Bridgetown and the historic Garrison Area. Bridgetown […]