Every year between May and October, many Hawksbill turtles make their way to the shores of the Caribbean island of Barbados, where they were born, to lay their eggs. Green turtles and Leatherbacks also nest on our shores.
If turtle hatchlings become disoriented on emerging from the sand, they are collected by trained volunteers and later released. You can join such a release, asking questions and assisting the little turtles as they make their way to the sea. See https://www.facebook.com/thebstp for times and locations of releases.
Swimming with the turtles

Swimming with the sea turtles  is a very popular activity in Barbados. Through ongoing interactions these wild turtles have become quite tame… and they certainly look forward to the food that usually accompanies their human friends!
You can join a Barbados catamaran cruise or dive operator for an opportunity to swim with these magnificent animals.
Conservation
Turtles are protected by law in Barbados and heavy fines can be imposed on those who harm eggs, hatchlings and adult turtles.
The Barbados Sea Turtle Project does an amazing job of patrolling the beaches of Barbados, assisting injured turtles,  tagging the adults, collecting scientific data, relocating at risk eggs, and collecting and releasing disoriented sea turtle hatchlings.
It is estimated that only 1 in every 1,000 hatchlings will survive to adulthood (25-30 years of age). Threats include natural predation, hunting, accidental deaths as turtles are caught in fishing gear. Nesting beaches are also under threat.
Those odds make the work of conservation groups all the more vital.
Your Barbados vacation
So if you're planning your Barbados vacation, be sure to include an activity with our local sea turtles!
The Story of the Turtles –
A short story by TravelersInsights magazine captures the amazing adventure of the baby turtles as they hatch and make their way to the ocean. They swim hundreds of miles out to the gulf stream where they live for many years feeding off the sea creatures that live in the floating sargassum seaweeds. When they are about the size of a dinner plate they head back to the same beach where they were born. Truly an amazing journey.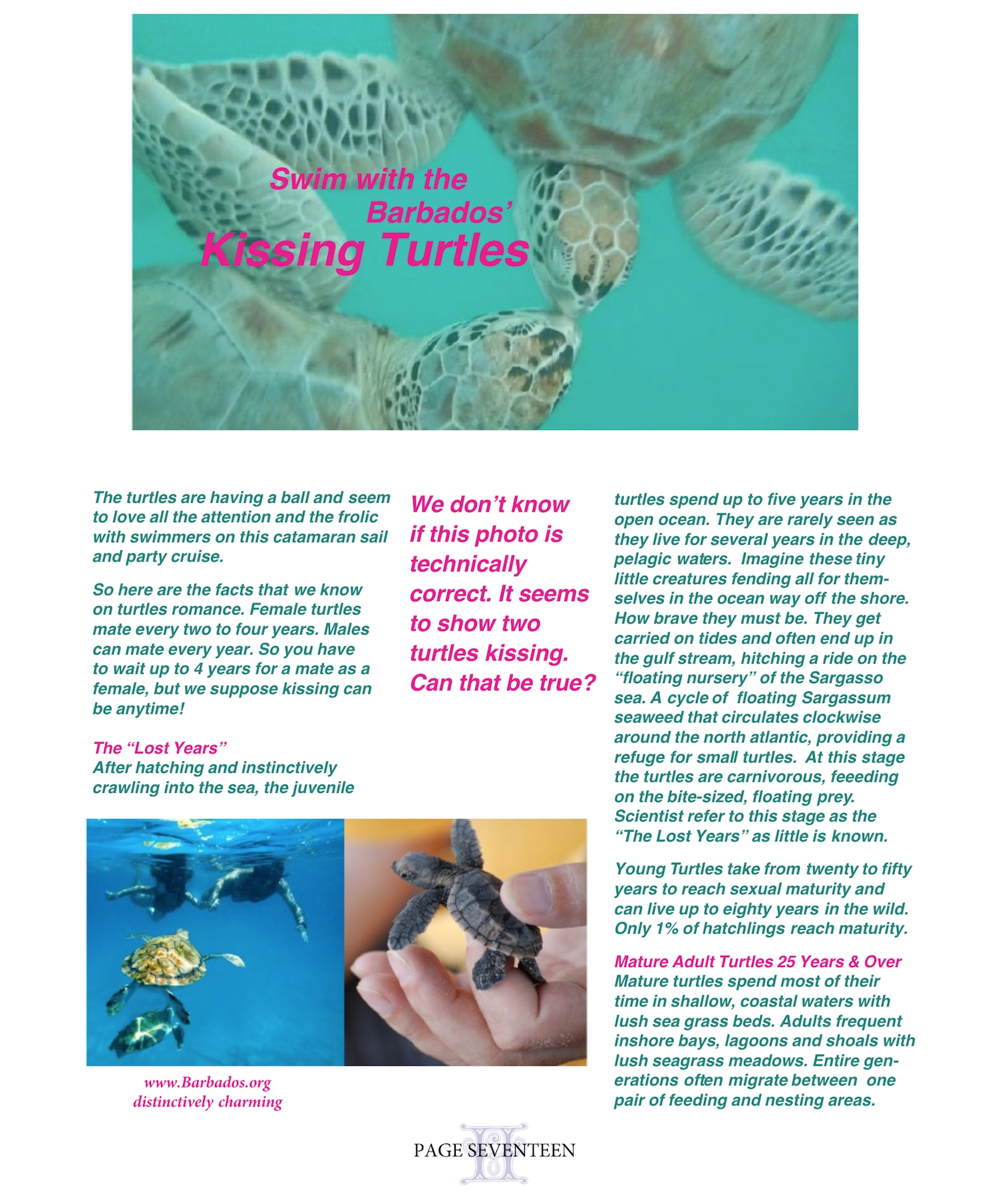 ---
Find your ideal Barbados accommodation...