Atlantis Submarines Barbados did not witness its first ever underwater scrimmage but our 1 pm charter tour guests had the skills to do it. Eight of the players from the 2011 Canadian Football League Players' Association (CFLPA) Pro Players' FANtasy Camp relaxed and took in the unique underwater adventure that is Atlantis Submarines. Among them were Korey Banks –BC Lions; Rob Murphy – Toronto Argonauts; Juwan Simpson – Calgary Stampeders; Anthony Calvillo – Montreal Alouettes; Doug Brown – Winnipeg Blue Bombers; Weston Dressler – Saskatchewan Rough Riders; Patrick Kabongo – Edmonton Eskimos; Marwan Hage – Hamilton Tiger Cats.

CFL players and official challenge cup as they prepare to take the plunge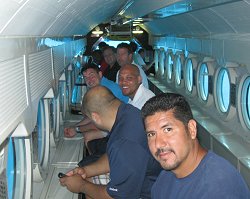 Atlantis Submarines in Barbados and the players and cup down under in Barbados
Most interestingly is also the fact that the cup is outside of Canada for the very first time and also underwater with the players on Atlantis Submarines in Barbados. The Organizers and players were in Barbados to pilot and prepare for the 2012 camp, a creative and very exciting concept to promote team and fan interaction. General Manager, Roseanne Myers expressed her delight at the opportunity to host them and said" The Atlantis Submarines dive was part of their itinerary for the pilot and we are looking forward to hosting players and fans in 2012. Atlantis Submarines is headquartered in Vancouver Canada so we are very happy to be among the activities chosen by the organizers."
Atlantis Submarines Barbados operates two 48 passenger submarines that provide the opportunity to see the underwater world during the day and at night in safety and comfort and to enjoy the reef and fish life that many non divers do not get to see.  For more information join us on Facebook; on our website www.atlantissubmarines.com/barbados,  or send email enquiries to bdsres@atlantissubmarines.com
---
Find your ideal Barbados accommodation...