For some time now, I've been thinking about visiting the small local chocolate factory in Barbados. Unable to convince any friends to join me (what's wrong with these people, who doesn't love chocolate?), I headed off by myself.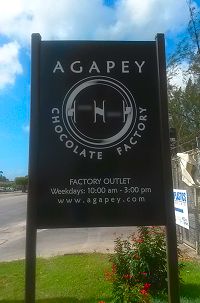 Booking the tour is easy… just click here! The factory is located a short stroll from the cruise ship port, so it's a great activity for cruise visitors.
Excellent signage and directions given when booking make it easy to find. You can tell you're approaching the factory when the distinctive scent of cocoa fills the air!
The day I visited there were just 3 of us for the tour, but there are often larger groups when large cruise ships are in port.
The tour began with information on the various types of  cocoa beans and the process of cultivation, harvesting, fermenting and drying of the beans (which are actually seeds, not beans at all). Some of the best flavoring beans are grown in the Caribbean and Latin America, although not commercially in Barbados.
The tasting session included the 2 key ingredients in chocolate making – sugar and cocoa. Agapey uses Barbados sugar in all of its chocolates and specializes in dark chocolate (no milk chocolate here!) in which cocoa is the primary ingredient. We sampled beans  from two of our neighbouring Caribbean islands – Grenada and the Dominican Republic. Both are delicious in their raw form with each having a distinctive flavour.
Then it was on to tasting the many chocolates produced at Agapey. The quality is outstanding and the range of flavours impressive. I particularly loved the fragrant Nutmeg blend (60%  cacao, with nutmeg, cinnamon and ginger) and the Rum Caramel (70% cacao, with Mount Gay rum infused caramel)! The Almond bar was also a big hit.
After enjoying the fruits of the chocolatiers' labour, it was time to see the process in action! A quick walk around the small factory took us completely through the process – from bean to bar – beginning with roasting, followed by crushing the beans, pressing and combining with natural flavours, tempering, cooling and hand packaging.
It's amazing to see the end result, considering that we began with such a small simple seed.
The owner – and master chocolatier – who conducted the tour was extremely friendly and knowledgeable. He happily answered questions throughout the process.
There are fewer than 50 companies worldwide doing this bean to bar process using traditional methods and machinery. Here's your chance to experience one!  I highly recommend this tour (which is about an hour and a half long) to all visitors to Barbados and locals.
Book your chocolate tour – check rates & availability
---
Find your ideal Barbados accommodation...