We love heading to the beach just before sunset.. what better way to unwind after a busy day than with a refreshing dip in the turquoise waters and watching the sun slip slowly into the sea?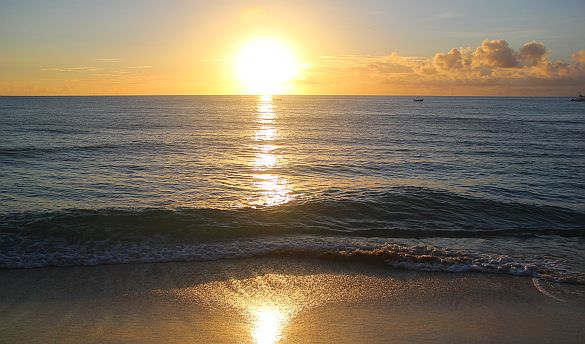 A beach trip in the late afternoon gives visitors the chance to mingle with locals, who flock to the shores after work for a beach walk,  game of paddle ball, or swim. Especially popular with Bajans are Miami Beach, Carlisle Bay, Brandons Beach and Batts Rock Beach.
As dusk approaches there is a welcome respite from the heat of the day, and the sky becomes filled with stunning tropical hues. Be sure to look for the "green flash", a curious optical phenomenon that causes a green spot to appear as the sun sets. While not visible every evening, the unobstructed horizon views from our beaches often offer up this intriguing sight.
The beach bars along the west coast of the island are great spots to enjoy a cold beer or cocktail as you watch the sun set. Little Bristol in Speightstown and Surfside Restaurant and Bar in Holetown are two of our favourites. The west coast boardwalk is another wonderful location where you can have a swim in the tranquil waters, stroll the boardwalk, and watch the sun slip away for another day.
Several local catamarans offer a sunset cruise, with a chance to swim with the sea turtles in the late afternoon before enjoying canapes as you glide back to the harbour.
---
Find your ideal Barbados accommodation...