Since first visiting this 166 square-mile island paradise in 2007, I have found the people of Barbados warm, friendly, and hospitable. Going local is the only way to truly experience it all. Use Barbados local guides, and be sure to visit local beach bars, restaurants, and shops. The island encourages outdoor living, nature, and an enviable lifestyle.
Tour with a local to experience the heart and soul of Barbados.
Barbados is Back and Booming with Local Business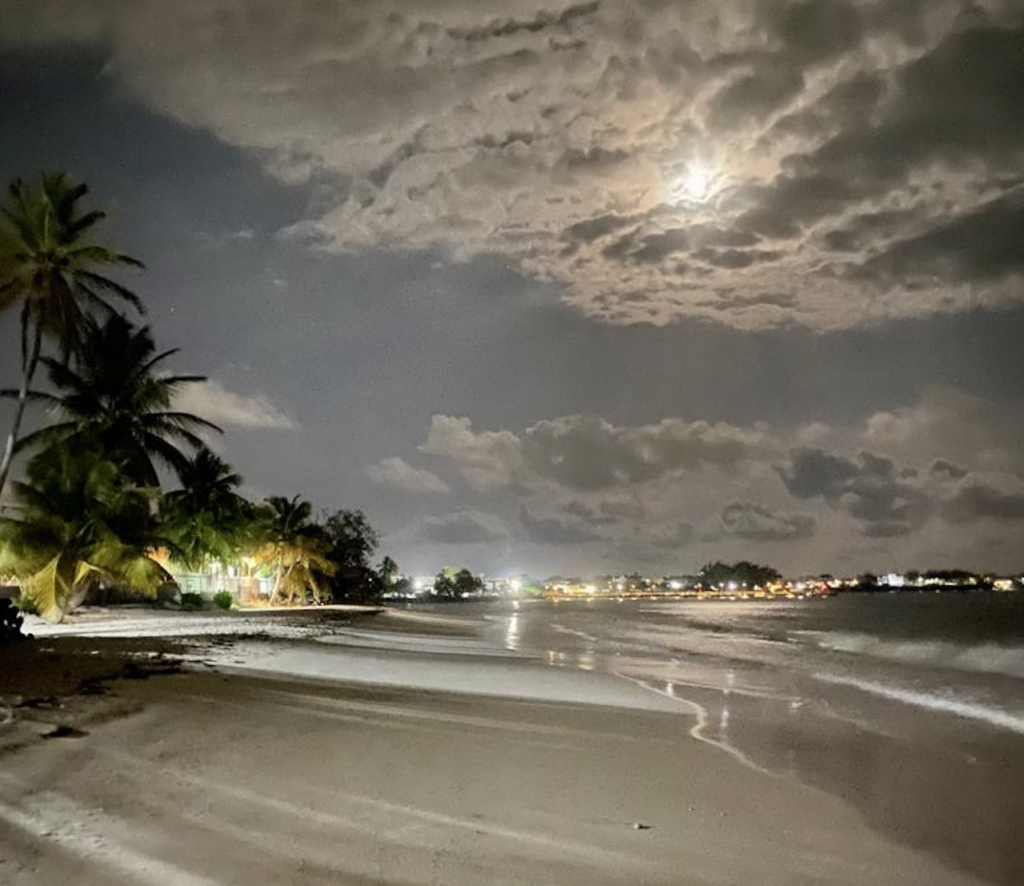 Once again, we were staying care of Lady St John and her daughter Charmaine. Lady St John has a special birthday very soon, and we wish her a very Happy Birthday and many more. Charmaine knows Barbados and it's people inside out! Follow her advice for a wonderful time
I've also found that Bajans have the skills, the creativity and an innate ability to want to be able to sell and become entrepreneurs. In support of this, the Government provides assistance so vendors are able to achieve their goals; doing it within the law and making sure that all the necessary skills are made available to them to be able to improve their craft offering and ultimately make a living.
Since the Covid blip and thanks to Major David Clarke's successful Barbados
vaccination programme, I have witnessed a recent rise in locals starting their own businesses, not only for their own benefit but also for their nation. Rather than concentrate on the major multi-national companies that admittedly provide invaluable services in Barbados, I want to focus on the small local traders or businesses who may be the stars of the future or are simply producing and selling top-quality products.
Rather than concentrate on the major multi-national companies that admittedly provide invaluable services in Barbados, I want to focus on the small local traders or businesses who may be the stars of the future or are simply producing and selling top-quality products.
Janelle's Homemade Natural Juices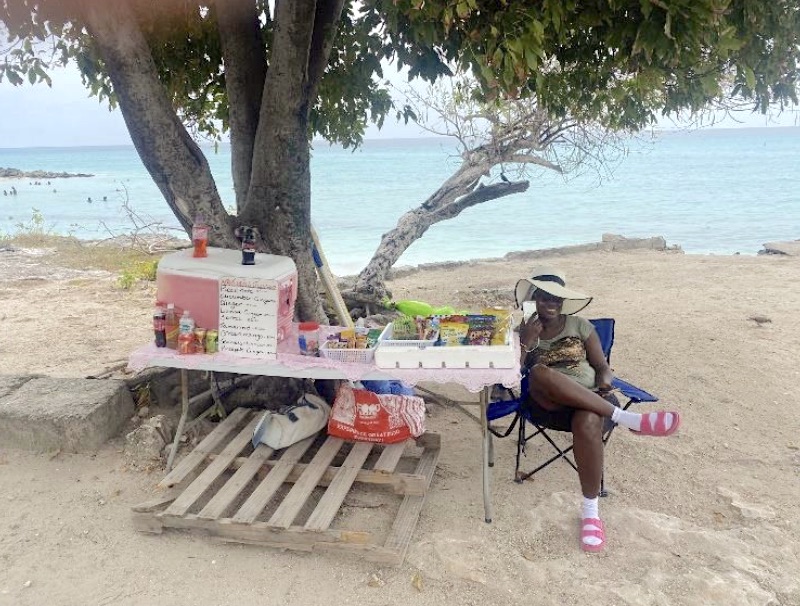 The very interesting mixes of ginger & lemon, pineapple & ginger and sea moss & linseed caught my eye when out walking. Janelle has a small pop up stand in the shade near the Enterprise Beach lagoon. Most of Janelle's handmade juices have no added sugar and are bursting with flavour. Competitively priced and an experience and cooling taste not to be missed, especially sitting on the hot sunny sand. I'd highly recommend both mango versions and the coconut & carrot punch.
I can see where Shirley White and her family who run OTC Beverages base their tasty traditional recipes on! Now available to order online at OTC Beverages https://otcbeverages.com
Alison's Fish Cakes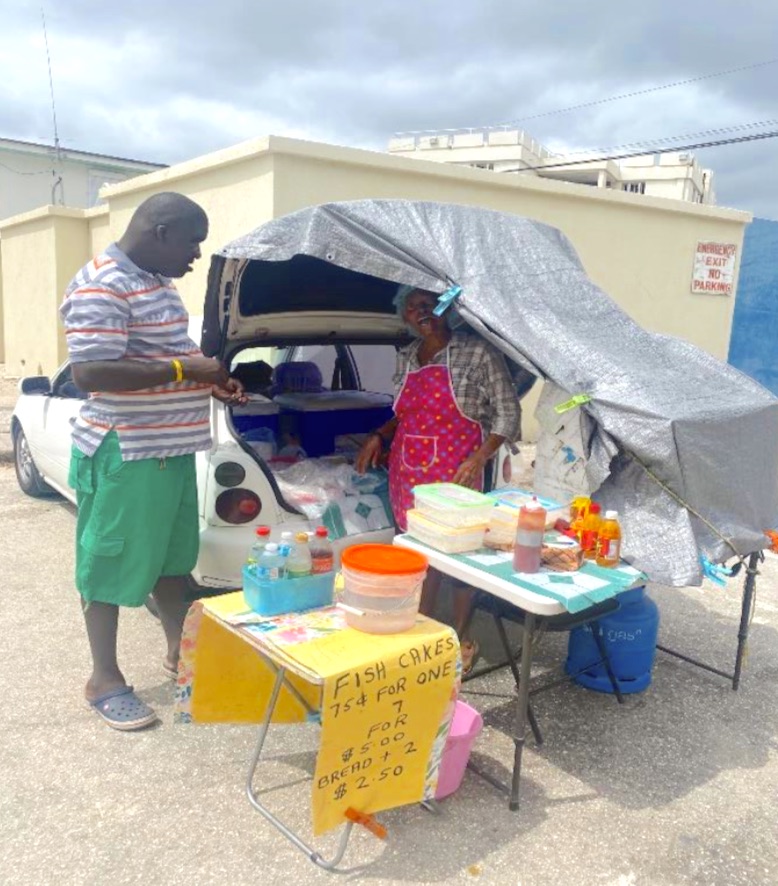 Alison is a delightful elderly lady who sets up her stand at the back of her little old white car next to the Enterprise Beach facility. It's not every day she's there but Alison's fish cakes are a delight and mostly available from mid morning to late afternoon. Get your order in early, as if you get your timing wrong she will have maybe a dozen people waiting on her skilfully mixed and fried fish cakes.
This delightful lady is so apologetic when she runs out of her fish cake mix. Popular with locals and visitors alike at 75 Barbados cents (37 US cents or 30 UK pence) each she is well worth a visit. You will undoubtedly be back for more!
Liam Jones (Cottage Meats)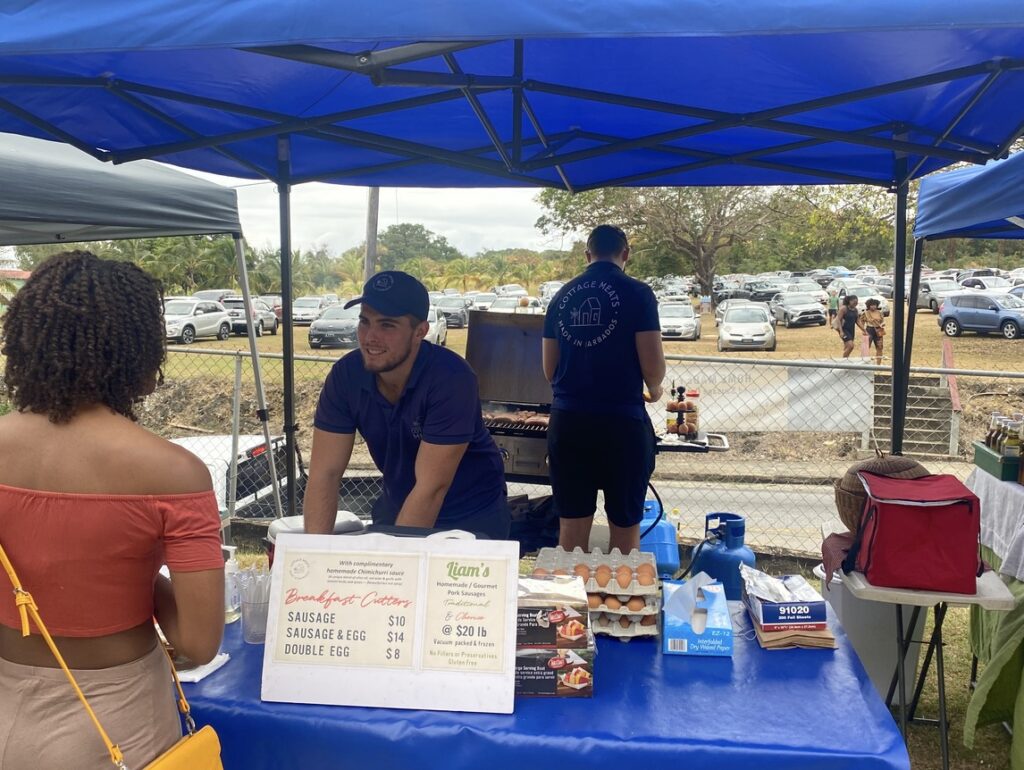 Brighton Market early on a Saturday morning is an excellent place to sample local produce and view hand-crafted jewellery and artwork. For breakfast an early visit to Liam at his Cottage Meats stand is a must. Drop by to order your breakfast roll with sausage and egg (original or spicy options available), and while it's on the barbecue, head over to Pilebucks Coffee Shop for your choice of coffee.
By the time you return to Liam's stand, your scrumptious roll topped with chimichurri sauce will be minutes away. For me this is the best breakfast on the island and can be enjoyed sitting on the adjacent picnic benches under the trees.
You also have the option to buy frozen takeaway sausage packs again order early as they go fast!
Liam is a talented young business owner producing the best homemade gourmet sausages available. There's almost always a line to order as his stand is so popular. While waiting I recommend you sample Neil's superb home made fish pate. I'm sure you'll buy a tub to have as a delicious appetiser later in the day. Liam's Cottage Meats produce can also be found in supermarkets such as Massy's, straight off the barbecue they are simply the best!
Kimberley White at Summergems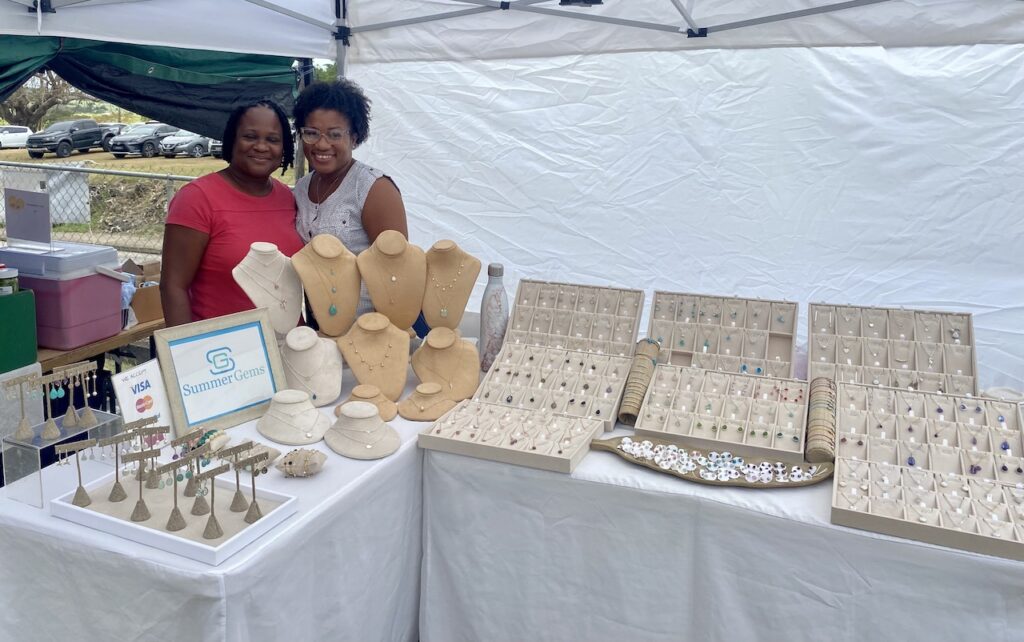 Kimberley is a very hard-working, successful, and busy young lady. Every one of her designs is handmade by her in Barbados. Her stall at Brighton Market is packed with quality hand-crafted jewellery.
Kimberley takes pride and care, to inspect every piece before sale or packaging and shipping. In minutes she can adjust jewellery for that perfect fit at her stand, making sure that each design has been carefully scrutinised from start-to-finish for quality assurance and a perfect fit.

You can also shop online at http://www.summergems.com/
More about Barbados Markets>>

Andrew Kellman our unofficial tour guide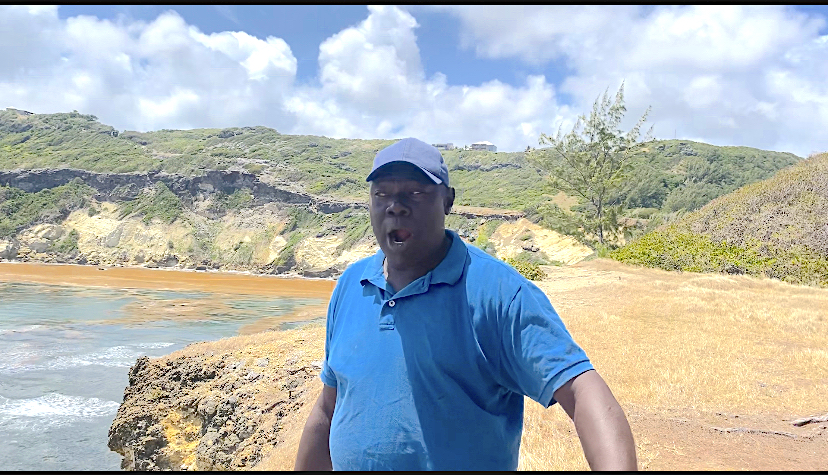 As we headed towards Cove Bay and Little Bay driving through The Baltic, St Peter, we bumped into Andrew Kellman. From that point, Andrew never stopped talking about Barbados history, plants, animals and, most importantly its fantastic vistas.Andrew's knowledge was excellent and I really enjoyed how he thoroughly tested me on my Bajan knowledge. My immediate answer to his question – who is the patron saint of Barbados – simply upped his questions to more difficult levels! After all, would he not expect a Scotsman to know that St Andrew was the patron saint of Scotland and Barbados, along with several other countries, including both Ukraine and Russia.
So on to Cove Bay where Andrew gave us directions and a running commentary on the area. Fabulous views and the maritime history of the rock known as Pico Tenerife, used by sailors of centuries past.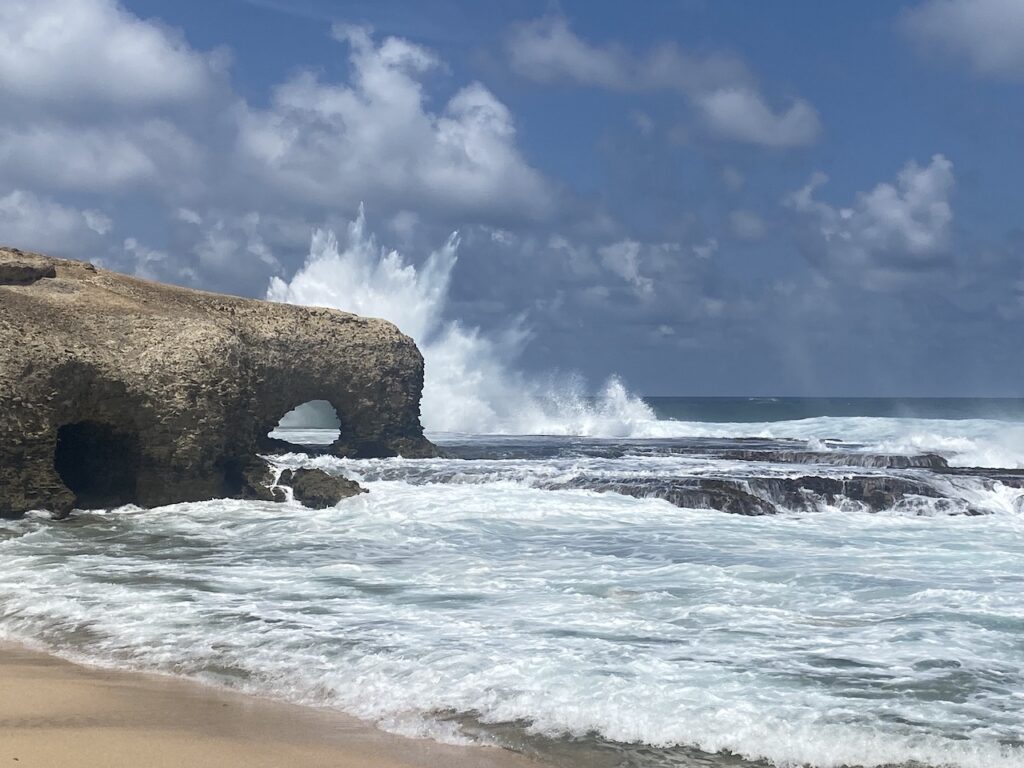 Then Andrew guided us to Little Bay and what a sight that was. The ocean was too rough to swim but very impressive waves continually rolled in. It looked totally different from the same calm location used in Billy Ocean's video for The Colour of Love. The waves were simply mesmerising, we could have stood there all day just watching but Andrew guided us back to the main road and left us but not before an education about the sea salt plants on the beach and the almond and breadfruit trees. What a fabulous personality and a very proud resident of his country!
Chillin & Grillin – Oistin Fish Fry
Oistins Fish Fry is an authentic Local experience. It is a historically significant village that was the science of the almost civil war that never was. It is also where the charter of Barbados was created.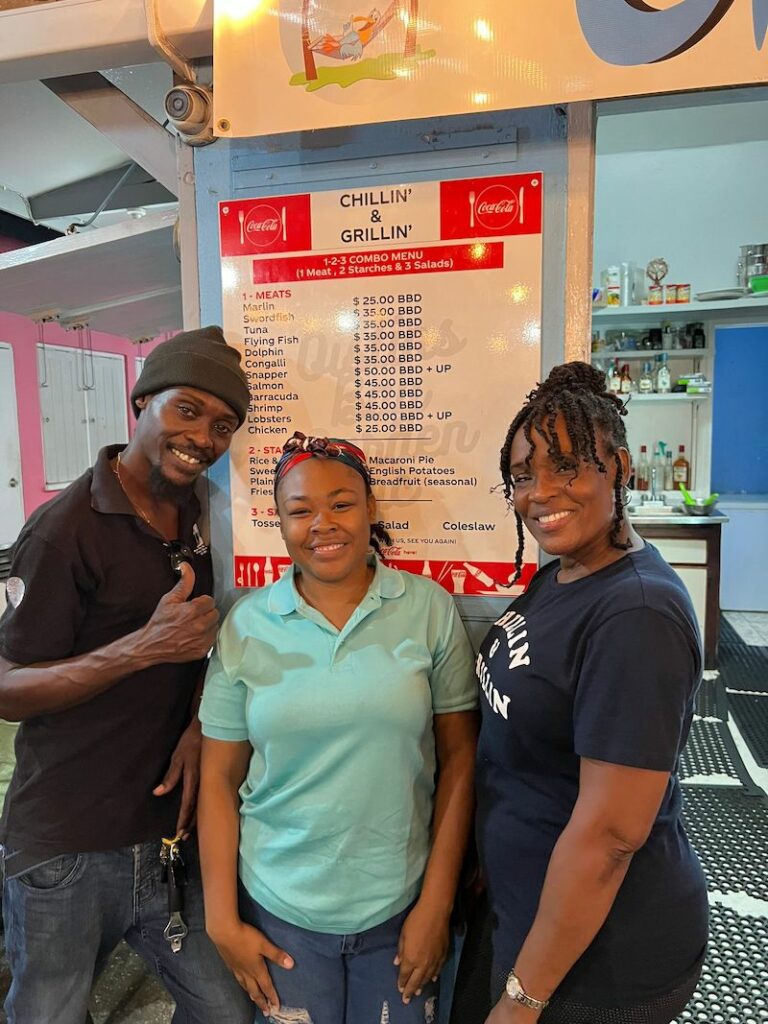 For me the best restaurant in Oistin Bay Gardens. Lana and her staff are
magnificent. They work really well as a team, from Shonte and Phillip who serve the tables to Chef Alan the BBQ king, and Veronica who works hard behind the scenes in the kitchen.
There's a wide variety of fish, shellfish, and chicken on offer. Add your choice of two 'starches' and 3 salads. Once cooked to perfection by Alan and unlike all the other restaurants nearby, your delicious meal is served on a ceramic plate and you're provided with stainless steel cutlery, no plastic utensils here, so far more environmentally friendly and reduces waste!
A real 'Green' thumbs up for Chillin & Grillin. Unfortunately, closed on a Sunday night which we discovered to our disappointment but sit-in and takeaway services are available every other night.
Lana and her team come highly recommended if you're in the area!
Ian R. Clayton – Local Author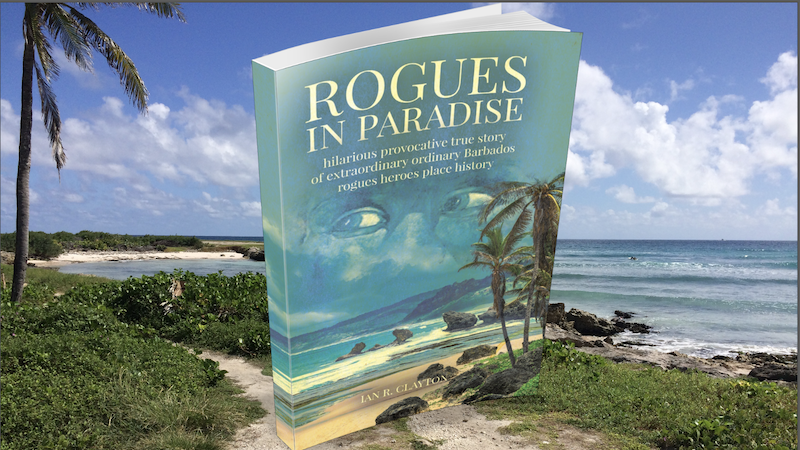 I learned very quickly that the locals are not just friendly and welcoming but full of life, and character, and rich in history no matter what it has thrown at them. I was lucky enough to be passed an early unpublished edition of Ian R. Clayton's book 'Rogues in Paradise'.
Within the book, Ian skilfully visits Barbados history and life on the island, including its troublesome times, missing no issues while delving into the lives of characters such as the proud Queen Bee (Peggy) on the new high-tech medical stretcher, Rex Wooton, and his Chalky Mount Caper with the 'stolen' construction lights. Also 'Fred and his hilarious courtroom escapade attempting to save the Race Horse Bathing at Pebbles Beach.
While delving into the 'rogues' as well as knights, dames and unsung heroes, Ian also manages to intertwine stand-out historical events and special places linked to the island and its population, including himself. He also touches on remarkable people like the forward-thinking Errol Barrow who, despite political opposition, implemented free school education and free school meals for all children. Ian unequivocally links this to today, where Barbados has one of the highest literacy rates in the world.
The entertaining character stories lead into a more somber section when Ian discusses the inhuman and brutal slave trade, and how it has and still affects Barbados today. In a life lesson from paradise, Ian says: 'Against all odds, the Bajan Spirit was not broken by slavery and colonial indulgence. A strong spirit rises above all.'
Ian's book is fascinating, as well as funny and solemn, it truly enriches the reader's historical education of Barbados. With every visit, I recognise the characters (rogues) when wandering throughout the island, whether it be on the beaches, in the towns or even in the rum shops or restaurants. Along with Ian, I truly believe;
'The people make Barbados and Barbados is its people!'
I await the publication of the updated version with anticipation! A very enjoyable and worthwhile read, I guarantee you will laugh and be educated on Barbados history at the same time!
Check out roguesinparadise.com – You can get a free sample of chapters here>>>
Arrive as a visitor and leave as a Bajan
As I've said to our fellow Barbados visitors and Miami Beach lovers, Michelle & Gordy, Cath & Ron, Laurie & James, Joanne & Cary, and Susan & Paul many a time in relation to Barbados. 'You arrive a visitor and leave feeling part of the island family.' No matter who you meet on the island they are respectful, welcoming, and keen to help make sure you enjoy your visit.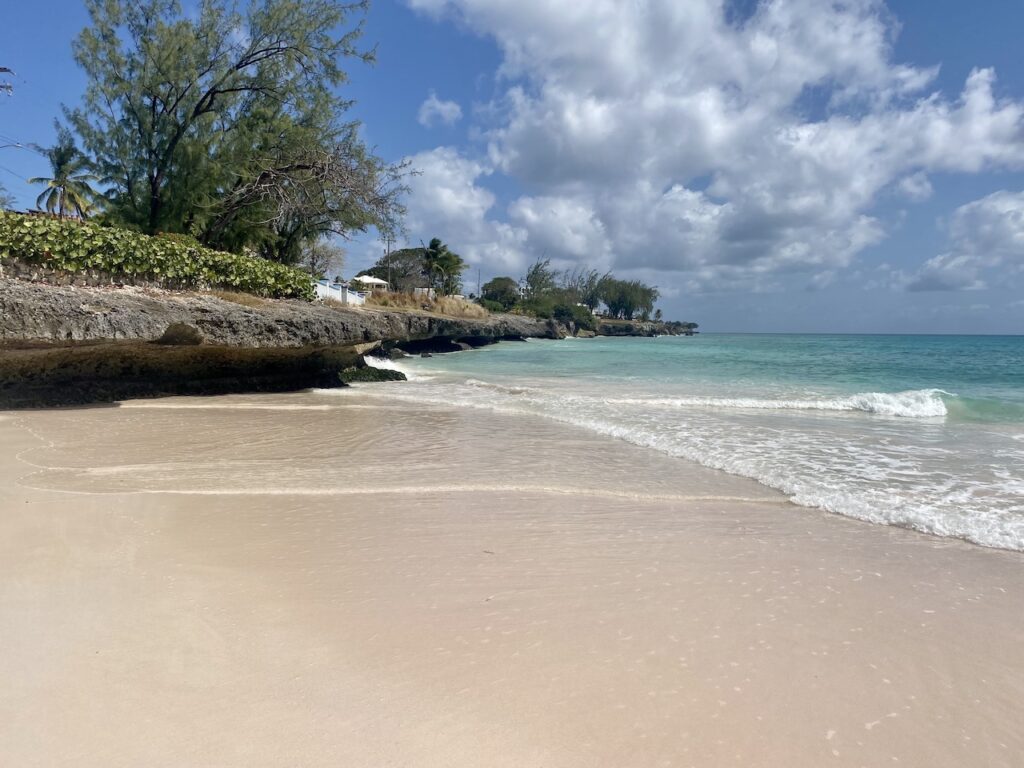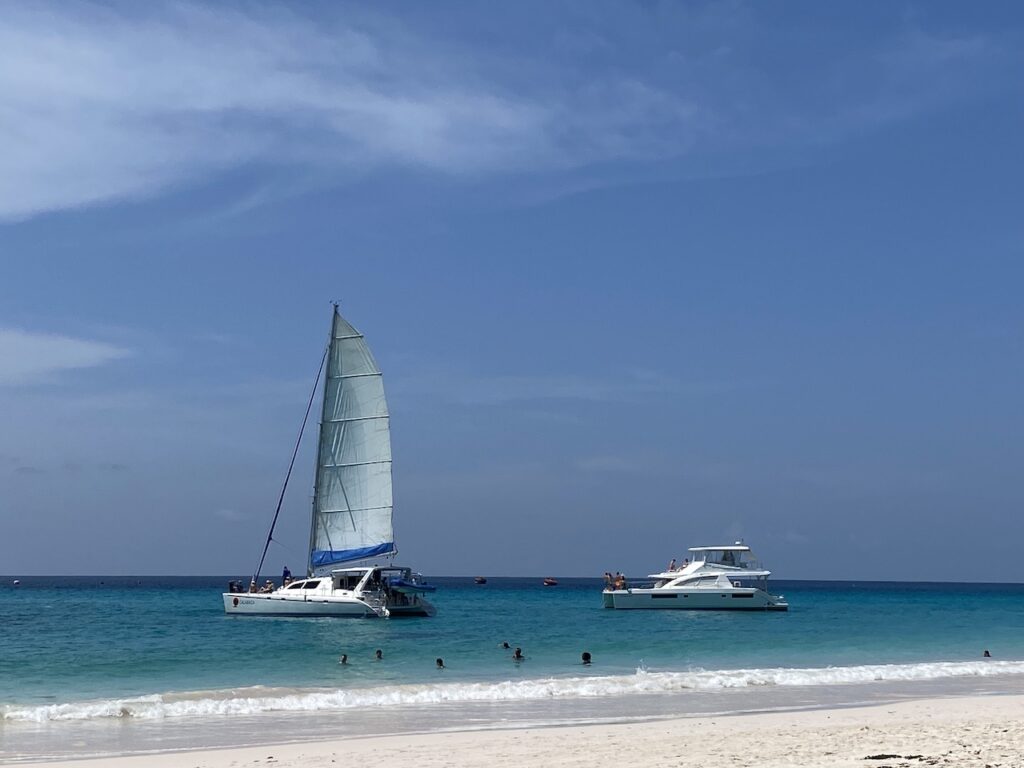 Visually respect is obvious everywhere on the Island, just watch the school kids dressed impeccably, in uniform running for the bus but forming a line at the side of the bus to let the elderly on first! That's in-built family values at work.

Bajan people at their best!

Video Summary
Author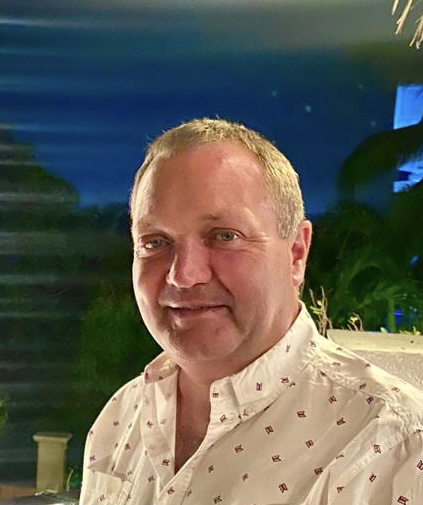 Calum Glenny
Gourock's Avid Traveller

---
Find your ideal Barbados accommodation...