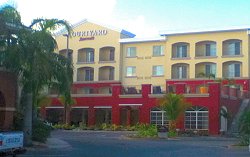 The Marriott Courtyard Bridgetown Hotel, located in the historic Garrison Area in Barbados is offering special deals to guests during the Crop Over summer festival!
These specially discounted rates start at US$159 per night.
In-room amenities at Courtyard Bridgetown include
Plush bedding
Cable TV (flat-screen)
Free high speed internet access
Hair dryer, coffee maker and safe
On-site facilities at this Barbados hotel include:
Outdoor swimming pool
Restaurant serving breakfast, lunch and dinner
Fitness center
Business center
Spa
Visit http://www.marriott.com/hotels/travel/bgicy-courtyard-bridgetown/ for more information about the Courtyard Bridgetown Hotel and for reservations.
Get even more Barbados vacation special offers and deals!
---
Find your ideal Barbados accommodation...