I was inspire to research the making of Ice in the tropics when writing my book Rogues in Paradise. I recount a fun story that happened at Chilly Mose and it got me thinking who was the ice cream maker BICO.

The Barbados Ice Company (BICO) is one of the oldest companies in Barbados. It began life in 1901 as the Barbados Ice Company Limited which, as you might have guessed from the name, made ice.(i) I Wrote about it in my new book Rogues in Paradise as part of the story on Chilly Moo's, and decided to create this blog on the ad-venture of BICO.
Barbados Ice Company – BICO
Ice was big business in the early 1900s as fridges were scarce. Electricity was expensive and not readily available. Barbados Electric Supply Corporation was not created till 1909, and then was not widely used. Cold storage with ice thrived on the island for many years.
In fact,making and storage was an inportant industry across the world back then. Natural ice stored in sawdust was shipped to much of the Caribbean all the way from Boston. And companies like BICO formed to make ice—which was a tricky job in the days before electricity.
Originally, ice was made by boiling water and collecting evaporation in wet cloths that turned to ice on cold nights. Not a good solution for the tropics. That's why a good international trade developed, with ice being shipped from cold climates to hot ones. In 1860, Ferdinand P. E. Carre invented the ice machine using ammonia absorption and ice could be made anywhere.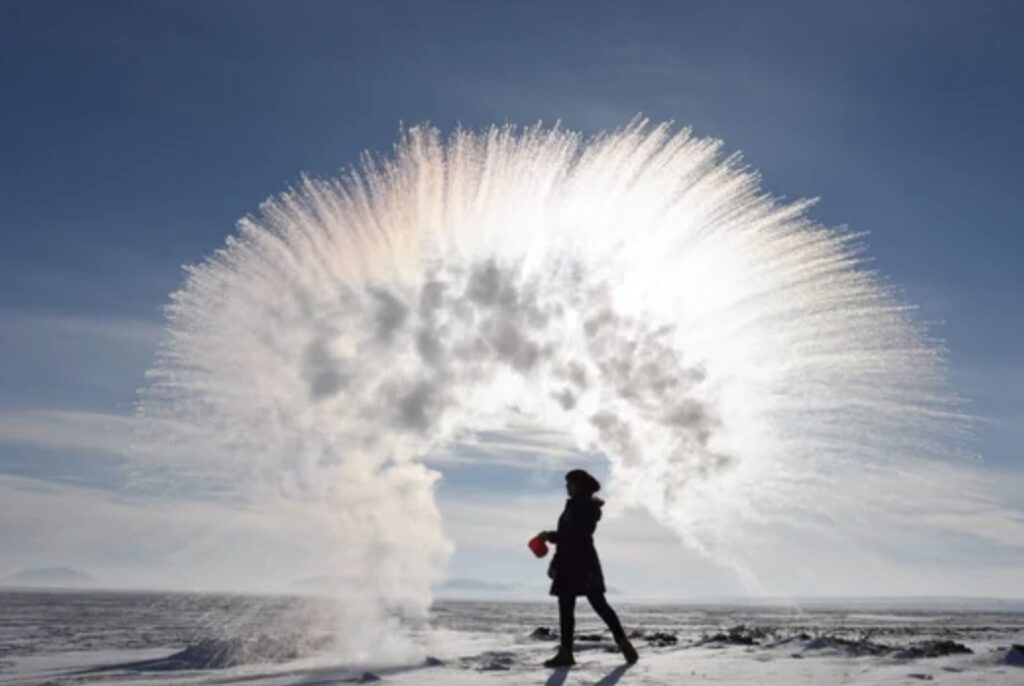 – Source Scientific America
Ice Cream a Natural Diversification
In Barbados, ice was used everywhere—in homes, on farms, in fishing, and in business. It was big business but, within seventy-five years of company founding, BICO closed down ice production, knowing it would be redundant once electricity was widely available. BICO saw the future in ice, and in 1949, it started making ice cream. By 2007 it was one of the largest cold storage facilities in the Caribbean, with about one million cubic feet of storage space.

In 2009 the factory burned down, and BICO ice cream production had to be outsourced. The ice cream sold in Chilly Moo's Ice Cream Treatery is now made in Canada and shipped to the BICO storage facility.
They say that ice cream is the second most popular food in Barbados, in second place to chicken. Bajans love chicken. Fried, stewed, barbecued, baked, and in curries. Chicken curry rotis are big here. Most places that serve chicken also serve BICO ice cream, but at Chilly Moo's, ice cream is a passion, and the lines can be massive.
Featured in Rogues in Paradise
Rogues in Paradise is a must read book that will fascinates and intrigue your mind.
Reviews & Praise for Rogues
The stories throughout are fantastic, with a real skill for injecting us into the heart of a scene, making us able to visualize and feel like we too are experiencing it. And of course now I really want to visit!
– Donna Hillyer, DH Publishing Consultant
A Lovely 5-Star Book Review

Gripping, charming, utterly unputdownable paean to Barbados, this book brims with wit, elegance, and subtle humour that instantly catapult us into the rhythm of Barbados. Each character jumps off the page, their images as vivid as the pictures painted by Woolly Hewitt or Darla Trotman.
This writing is exceptional it reminds one of Roald Dahl's writing in Boy and the first few chapters of Going Solo in the rhetorical flourishes applied to the characters; and a bit of Ruskin Bond's flow in the poems and rhythms applied left, right and centre.  Readsy
– Savyasachee Jha, Readsy
Author
(c) Ian R Clayton, Author Rogues in Paradise
---
Find your ideal Barbados accommodation...