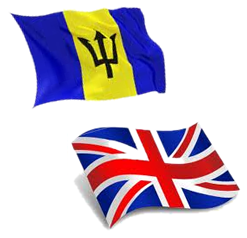 For the 10th year in a row (yes that's tenth!), Barbados has won the 'Best Destination Partnership' award from Virgin Holidays.
The UK office of the Barbados Tourism Authority picked up at the award at a recent ceremony held  during  the annual World Travel Market in London. It is the 10th successive win for the island, as we beat out over 50 other destinations worldwide.
Barbados has long been a favourite travel destination for Britons, in part because of the historical and social ties between Barbados and the UK. The island was first claimed by the British in 1625 and settled 2 years later. Unlike many other Caribbean islands  which changed hands between European powers (mainly the Spanish, French and English), Barbados flew only the British flag from the time it was settled until Independence in 1966.
Many British traditions continue on the island including a love of cricket and tea, the Westminster system of government, driving on the left side of the road and schoolchildren neatly attired in uniforms.
---
Find your ideal Barbados accommodation...