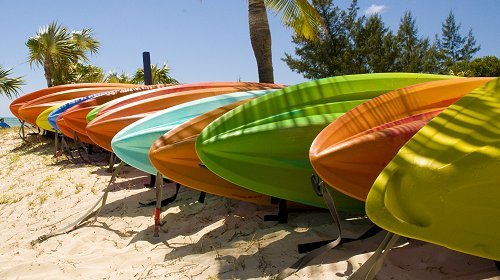 Did you know that Barbados is a great Caribbean vacation destination for kayaking?
The crystal clear waters, warm sunshine and cooling breezes are all the right ingredients for an amazing day gliding across the ocean, gazing at lovely white sand beaches, maybe spotting a celebrity or two, or even catching site of the amazing sea turtles that call our waters home!
The calm waters of the western coast of Barbados are ideal for a leisurely kayak ride and would be ideal if you're kayaking with children.
For a more extreme kayaking experience visit the south coast of Barbados where the waves are more lively. Surfers Point on the southern tip of the island is a great location.
Rent a kayak from watersports shops located at hotels and beaches across the island. You may also wish to check the all-inclusive resorts on the island as kayaking may be included as part of their watersports package. So if you love kayaking and watersports a Barbados all-inclusive vacation may be right for you!
Click to find and contact Barbados kayak rentals on the island
---
Find your ideal Barbados accommodation...