Please note that this concert has been postponed to a date in 2014 not yet announced.
Barbadian superstar Rihanna will be giving another concert in Barbados, this one on November 1st 2013 during her Diamonds World Tour!
The show will be the second one by Rihanna on her home soil, following the hugely successful show held in August 2011 as part of the Loud concert tour.
Tickets go on sale at noon Friday August 2nd. Prices range from US $35 to US $215.
Prices
Field – Platinum: BDS$430 (US$215)
Field – Gold: BDS$250 (US$125)
Field – Silver: BDS$140 (US$70)
3W's Stand: BDS$180 (US$90)
Hall & Griffith Stand: BDS$80 (US$40)
Greenidge & Haynes Stand: BDS$80 (US$40)
Hewitt & Inniss: BDS$70 (US$35)
Online tickets
Buy tickets online at TicketMaster.com
Where to stay
Local ticket outlets
Premier Events Services, Welches Plaza
A&B Music Supplies, Sheraton Centre
SOL, Warrens
Texaco Service Station, Wildey
C.S. Pharmacy, Bridgetown
Emerald City Supermarket, Six Roads
Rubis, Sunset Crest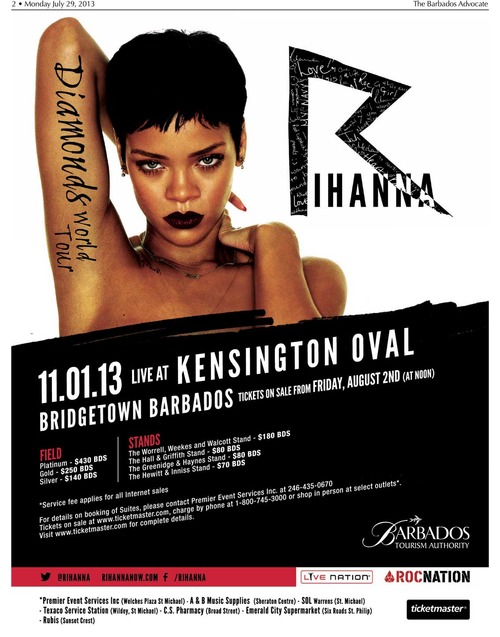 ---
Find your ideal Barbados accommodation...