Bajans and visitors can look forward to new & beautiful series of bank notes!
The new notes cover all denominations – $2, $5, $10, $20, $50 and $100.
The existing bank notes will continue to be accepted on the island.
In addition to a new design, the notes have a number of additional security features such as reflective bars, hidden numbers and UV reactive ink.
To assist the visually impaired, the new notes include tactile marks that help identify the bill. The number of such marks increases with the value of the note, from one dot for the $2 bill to six dots for the $100 bill.
Barbados' bank notes feature the likeness of outstanding Barbadians, including national heroes Sir Grantley Adams and Errol Barrow. These have been retained from the original currency, however the images on the reverse have been changed.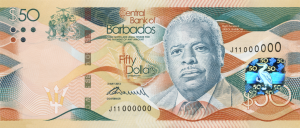 The basic colors of the notes remain the same:
$2 – blue

$5 – green
$10 – brown
$20 – purple
$50 – orange
$100 – grey
---
Find your ideal Barbados accommodation...