Great news! Barbados iPad Magazine, just launched, is already ranked in the top 6 Travel Mags!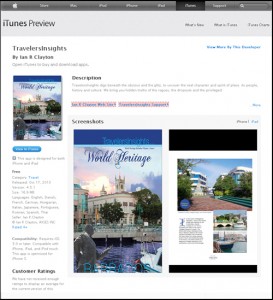 It's a digital magazine, filled with multimedia including several videos, clickable links and clickable navigation. In fact it's a fully approved app in the iTunes store:
http://itunes.travellersinsights.com
With 400 downloads in just a few days we believe that this both a great way for visitors to learn about our wonderful destination and  a fantastic  channel for marketing hotels and tourism.
FREE PROMO
The magazine is available on subscription and per issue but for a limited time you can download a free version at no cost.
The iPad difference!
67 million iPads were sold in the first  year of its launch. Measured by units that's bigger that Pepsi or MacDonald's.
There is a huge and growing population of highly motivated iPad users.
See more at http://TravellersInsights.com/magcast
---
Find your ideal Barbados accommodation...