In this lovely video of family holidays in Barbados we feature many of the island's special characteristics that especially appeal to families with children. Starting with the Hunte's fantasy gardens to a perennial favourite with kids: a trip in a real submarine!
Step out of the ordinary and let your spirit soar!
Enchanted Barbados Family Holidays
Barbados is an island with great entertainment and everything from submarine adventures, sailing, water sports, endless beaches and more things to do per mile than any Caribbean destination.
Join us to explore family vacations in Barbados. From sea to land and underground. Discover fun holiday activities, resorts with kids clubs and restaurants with playgrounds.
Barbados holidays are for children, seniors and families of all ages.
You can choose to stay in our distinctive boutique hotels, private villas, apartments, intimate inns and B&Bs or the worlds most luxurious retreats. There is something for every budget and style in Barbados. In this family friendly island, children often stay free and sitters and kids clubs are available in most resorts.
Kissed by the calm Caribbean sea on the west and embraced by the wild Atlantic Ocean on the east, you are never far from a beach or a rugged coastline. And there is always lots to do on land… enjoy gourmet dining at an elegant waterfront restaurant or relax at a local village market with fun music and dance.
And while you are here be sure to visit the only supersonic flight museum in the Caribbean! Another fun museum is Arlington House in Speightstown, with its interactive screens and talking pirates it is an educational experience that kids of all ages love. Just across the street in Speightstown, is the Fisherman's Pub, stop in for a fun Caribbean lunch on the waterfront.
There are many ways your days can unfold in Barbados. From exploring the underground caves and waterfalls to zipping over the treetops there are a hundred things to do and see.. In this magical island by the sea….
Barbados Family Holidays >>> Step out of the ordinary and let your spirit soar!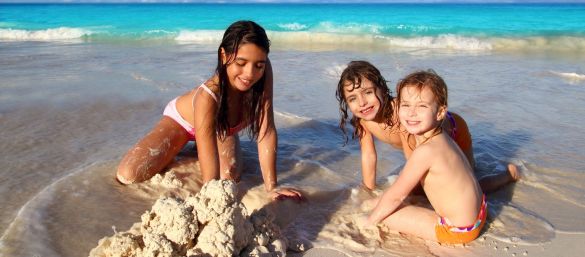 ---
Find your ideal Barbados accommodation...