Our exploration of Barbados beaches takes us this week to the north-east coast of Barbados and the picturesque fishing village Six Men's.
Here, bordering a vibrant fish market, is Six Men's Bay where you'll find local fishermen heading out to sea early in the morning and returning throughout the day with their catch to be cleaned, boned and sold by the fish vendors. This is as fresh as it gets! Don't want to cook this fish yourself? No problem… just head down to Six Men's on a Friday or Saturday night when the Fish Fry is in action!
The bay is a typical Barbados west coast beach with soft white/pink sands bordered by coconut and palm trees. Here the waters of the Caribbean Sea lap gently at the shore…. inviting you in for a quick dip!
Just take a look at this photo entitled "My Ideal Office" by Materloo… taken in Six Men's Bay! Ideal office indeed… what a view!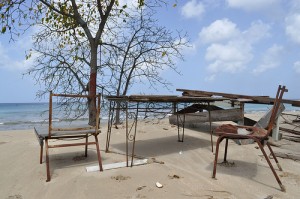 http://www.flickr.com/photos/matcan/4506445323/
Six Men's is ideally located along the bus route so can be easily reached by public transportation. There is also a small parking lot at the fish market if you're in a car and wish to stop in.
View Six Men's Bay, Barbados in a larger map
Early morning is a great time to visit to see the fishermen heading out; anytime during the day is good to stop for a beach stroll and sea bath; dusk time reveals lovely sunsets.
So on your next Barbados vacation put Six Men's  Bay on your 'To Do' list!
Read more about Barbados west coast beaches….
---
Find your ideal Barbados accommodation...