Check availability and book your holiday at SoCo!
UPDATE 2013
The SoCo Hotel is open and it looks fabulous! The hotel has amazing views of the boardwalk and ocean.
Here you'll find small pools surrounded by reefs that are ideal wading areas for children. At each end of the boardwalk are seas more suitable for swimming and watersports (Rockley/Accra beach at the eastern end and in front of the Coconut Court and Amaryllis hotels at the western end).
What's Nearby
Restaurants, bars  and shopping are all within easy walking distance and include:
The Deck restaurant at Coconut Court Hotel
The Blue Room sports bar and grill
Blakey's Bar and Restaurant
Mama Mia's Italian restaurant
Lanterns Mall and food court (including Subway)
Hastings Mall
KFC
This all-inclusive boutique hotel offers 24 rooms – 17 standard & 7 deluxe. Ground floor rooms step out onto the pool deck and offer a view of the Caribbean Sea. All other rooms have spectacular views of the beach and crystal-clear seas.
On-site facilities include
freshwater swimming pool
pool bar
restaurant.
Check availability and book your holiday at SoCo!
———————————————-
UPDATE – August 2012

The SoCo hotel construction/renovations are continuing. Here's an updated photo taken August-12-2012.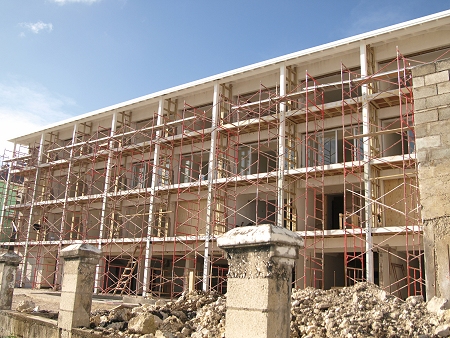 The boardwalk and beach are as fabulous as ever!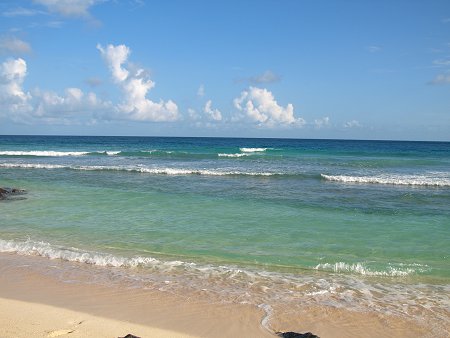 ———————————————-
The talk in Barbados and online (specially from repeat visitors to our lovely island) is of the new SoCo Hotel slated to open on the south coast of the island in August.
Location
The hotel is located directly along the south coast boardwalk, at its western end. This location gives great access to the boardwalk, perfect for strolling, jogging and watching sunsets, as well as to the lovely beaches and pools along that coastline.
SoCo Hotel
The hotel itself is at the site of the previous Sierra Beach Apartments. At the time of writing (May 28th) the hotel is currently under development. The core structure of the building is in place and major internal and external renovations are underway.
---
Find your ideal Barbados accommodation...