Maxwell Beach, Barbados – December 12th, 2017 – Bougainvillea Beach Resort has reopened in December 2017 after a transformative multi-million dollar renovation that has seen the resort rebranded as 'Bougainvillea Barbados'.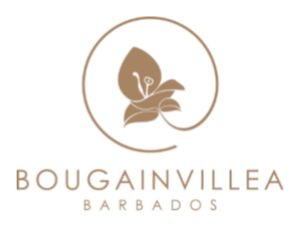 The renovation of the family-owned beachfront resort includes an updated exterior façade; refreshed room interiors designed by Dagny Bain of dB Interiors; a brand new full service Karma Spa & Wellness Centre; and two revamped restaurants located on Maxwell Beach on the famed south coast of the island. Architectural firm Michael Gomes Associates were also enlisted to reimagine the hotel and lead the project.
"Our entire team at Bougainvillea Barbados is so delighted with the opportunity to welcome guests to a new experience this year," said Sales and Marketing Manager, Jamal Griffith. "Though we maintained our facility very well over the years, the owners and management committed themselves to improving the product with a view of the future. This speaks volumes about vision, and the level of commitment the organisation has to the local economy, the tourism industry and to our staff, who were integral in the renovation, as many weren't laid off, but opted to stay on work on the project. We're committed to honouring our unique Barbadian history and colourful Caribbean culture in a modern yet authentic way which will serve as the foundation for everything that we do; from our cultural programming to our elevated levels of service."
ABOUT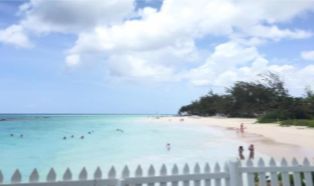 Situated directly on one of the south coast's most beautiful and world-famous beaches, Maxwell Beach, Bougainvillea Barbados boasts unrivaled views of the ocean. The reopening of the resort will bring a fresh aesthetic to reflect a modern beach villa ambiance. The long standing popular and multi-award winning resort offers an impressive array of facilities, plus self-catering or meal plan options making it ideal for families, couples, friends and groups.
GUESTROOMS & SUITES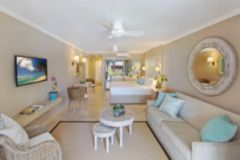 dB Interiors' design concepts were inspired by modern Barbadian culture and the island's organic and lush landscape to create a tranquil oasis. Organic materials, including wood and natural stone, and a tone-on-tone palette of white and beige, accented by hues of aqua and green, create a light, airy guest environment. Thoughtful design touches including luxurious comfortable sofas, handcrafted mango wood tables and historical photos pay homage to the colourful culture inherent to Barbados.
PUBLIC SPACES
The extensive plans for the hotel's public spaces include a rejuvenated hotel exterior and completely reimagined lobby, new guest services and concierge areas, a guest hospitality room, an exclusive group arrival lounge, as well as a luxurious spa and wellness center. Guests will arrive via a landscaped porte cochere at the front of the resort. dB interiors has chosen custom furnishings to complement the serene space; natural wood finishes mixed with highly decorative furnishings coral rendered walls and mother of pearl light fixtures that invoke a classic, yet suitably island aesthetic.
POOL DECK AND BEACH
The pool deck features a swim up pool bar with views of the pristine shoreline, luxury day beds, lush gardens full of Bougainvillea flowers and enhanced poolside service including fresh, scented cold towels and drinks service enabling guests to lay back in absolute relaxation. Guests will bask under deluxe umbrellas amidst bougainvillea and palm trees for an unparalleled island vacation experience.
DINING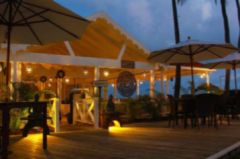 The hotel will boast contemporary dining concepts ranging from a farm-fresh Bajan buffet breakfast to fine Asia-Pacific inspired cuisine. Conceived by international chef Roberto Pereyra, Siam Bar and Restaurant blends fresh local ingredients with Thai inspired dishes and flavours to create a fusion of tastes that will bring your palette alive. Located on the more intimate eastern side of the property Siam will serve as the hotel's specialty restaurant. For a more casual dining experience right on the beach, Lanterns will feature themed buffets, exciting new dishes from around the world, live entertainment, along with an impressive selection of exotic refreshing cocktails.
Media Contacts:
UK/Europe:
Gemma Lewis
Escape Marketing
gemma@escapemarketing.net
Tel: +44 (0)207 183 5058
USA –
Rick Troy
Rick Troy Hotel Promotions
rick_troy_702@comcast.net
Tel: 1-908-285-8251
Canada, LatAm and Caribbean
Jamal Griffith
Bougainvillea Barbados
marketing@bougainvillearesort.com
Tel: 1-246-628-0990
Click here to explore Bougainvillea Barbados
---
Find your ideal Barbados accommodation...