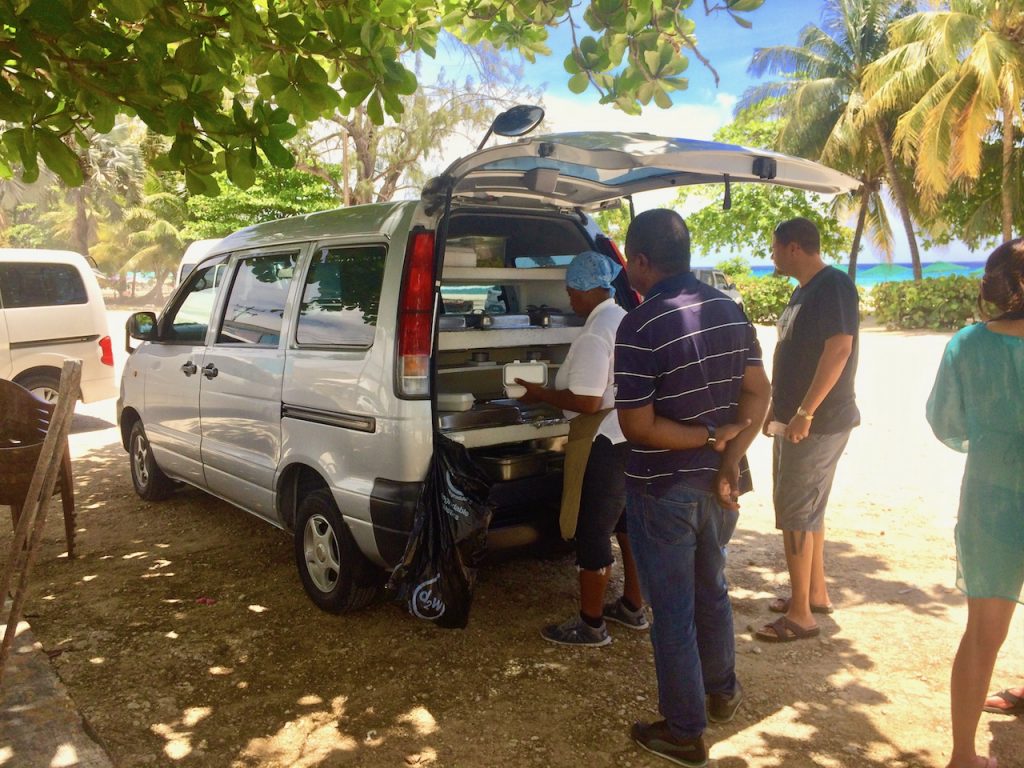 A Culture of Food on Wheels
Barbados has had a culture of travelling kitchens and food vans for decades. Long before tourism became an industry in Barbados, cooks carried meals to workers on the job and to homes, cricket fields and places where people gathered. Home cooking predated sandwich boxes and Barbadians (Bajans) have always enjoyed the arrival of the food van with hot plates of delicious home-cooked 'Peas 'n Rice' and Macaroni Pie.
Street Food – 2.5 Billion Served
Today, food vans are an important part of the worldwide street food industry, which serves an estimated 2.5 billion people every day. There are food trucks with yacht-style compact kitchens, portable food booths, canteens on wheels and food carts. The latter come to you on bikes, by foot and perhaps, as in the old days, by donkey cart.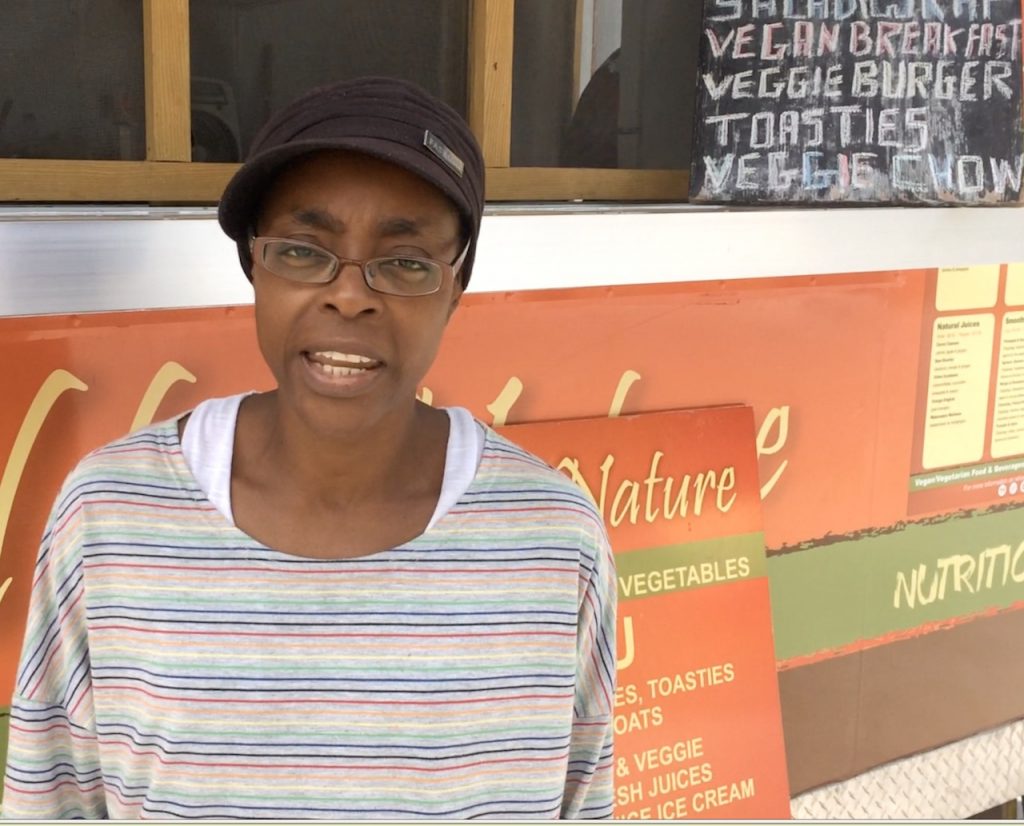 All Sizes & Types from Carts to Trucks
They range in size from small to large vans and converted trucks, storing and serving food wherever they can. Some serve packaged foods, confectioneries and home-baked breads and sandwiches.
Others offer hot meals from buffet-style Bain Marie pans. The most advanced are cooking machines with ovens, grills, refrigerators and everything else including the kitchen sink.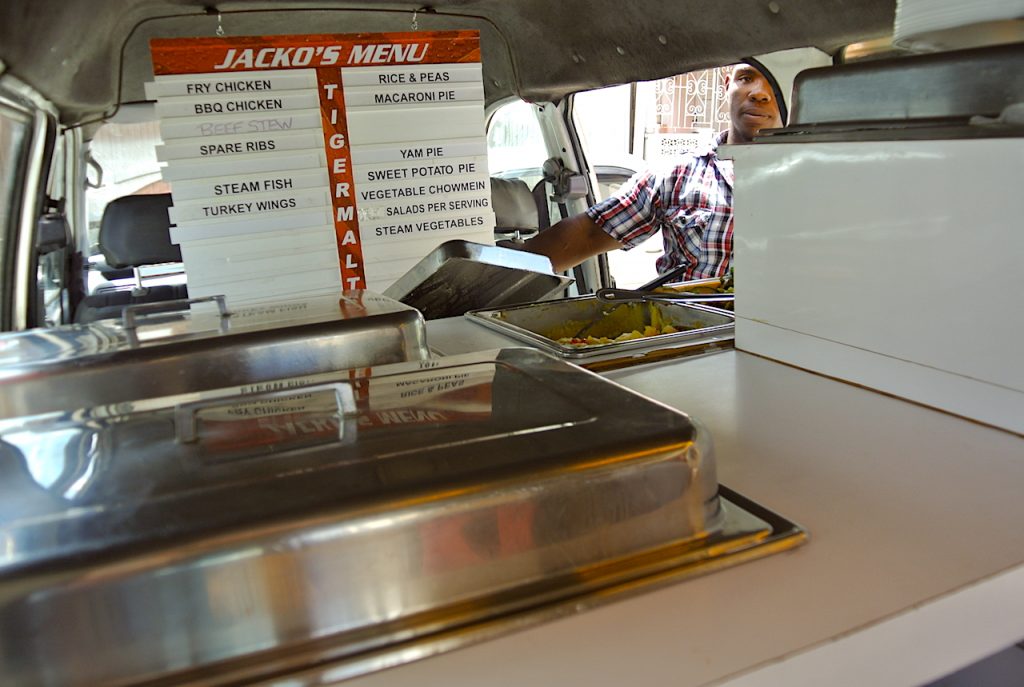 Pop-up Food Island Wide

The fair varies from home-cooked pies to gourmet cuisine to Jamaican Jerk Chicken. Today, food vans and kitchens on wheels serve tourists and locals on street corners, beaches and parks all around Barbados. Most vans have schedules and are licensed to sell from certain locations.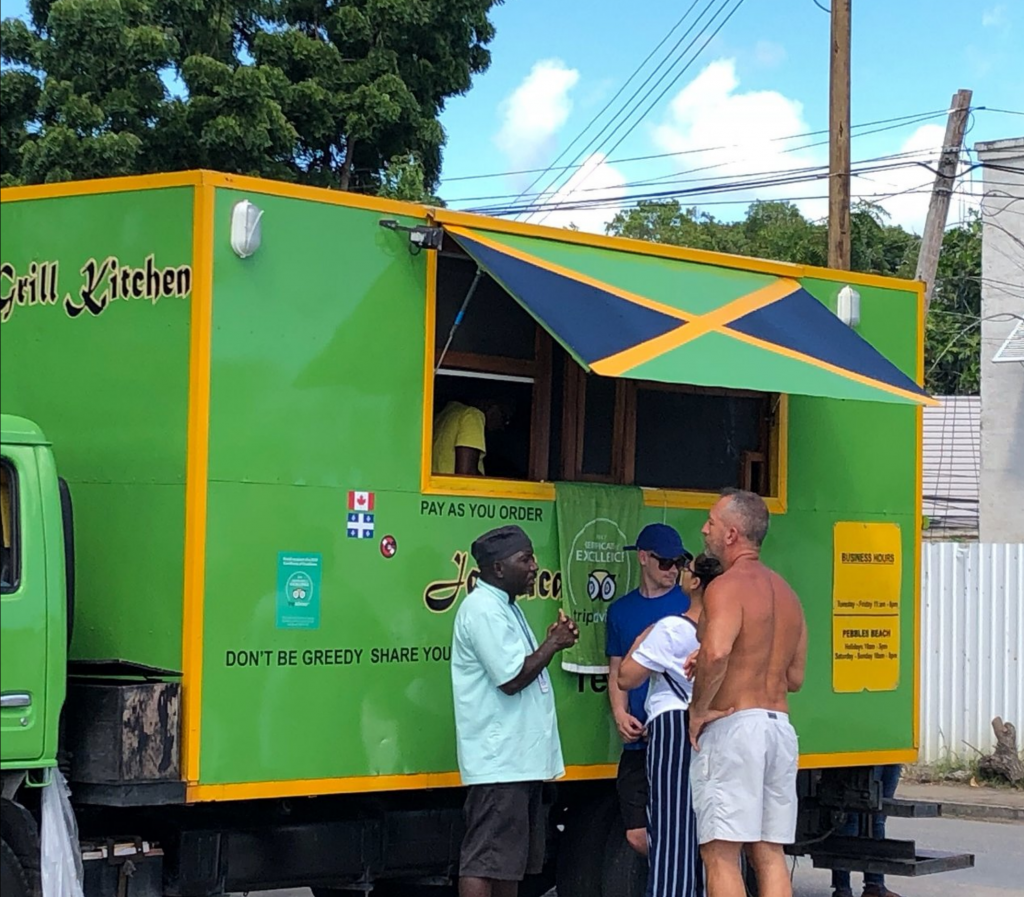 Some seem to operate by instinct, going where they want when they want. That is especially true of the icicle-bicycle vendor with his icebox bike, ready to stop wherever there are people who might need a snow-cone or cool drink.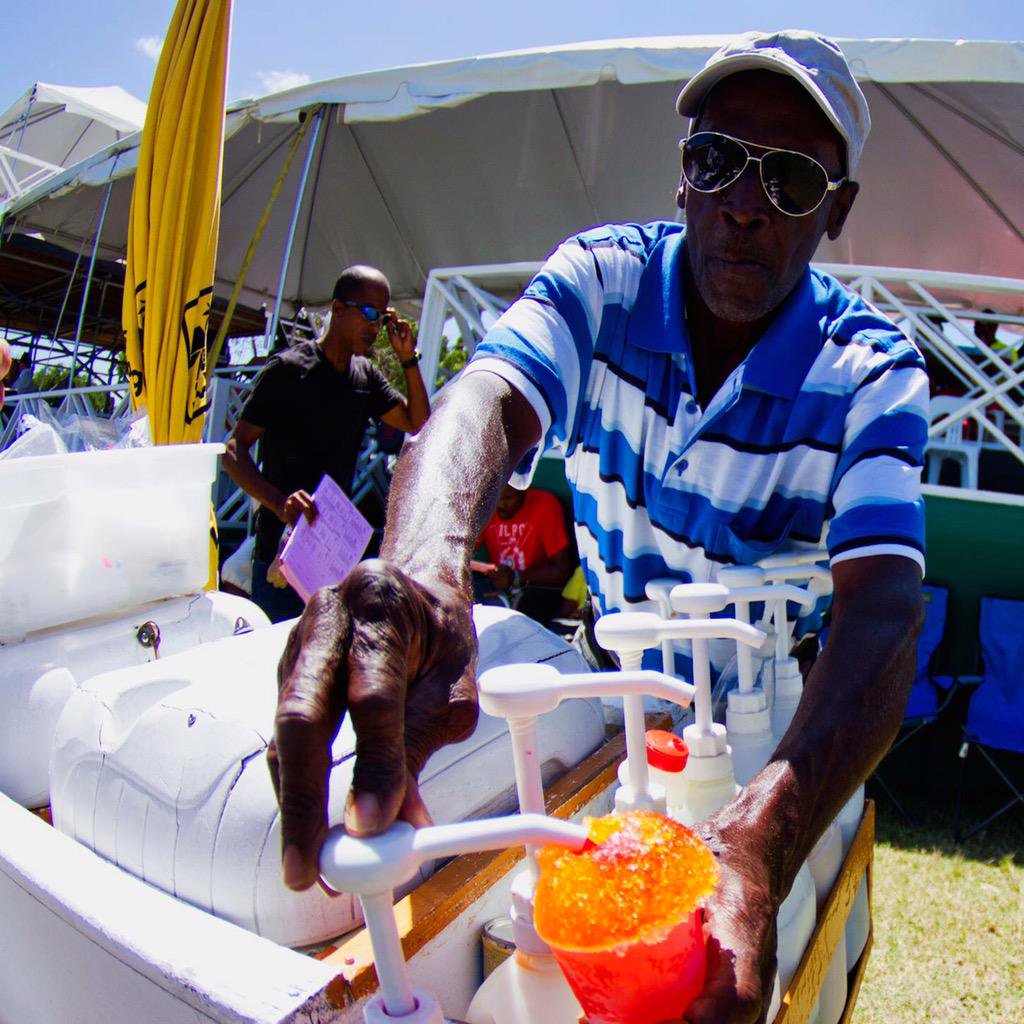 Fresh Wholesome Bajan Food
Van Food is some of the best Bajan food you will find anywhere. It is wholesome, fresh food cooked with flair, love and personality. The chefs are up early before the sun rises to get ready for the day. They prepare all sorts of Bajan delights including Rice and Peas, Veggie Burgers, Rotis, Patties, Fish and Meats. Fried Fish, Chicken, Lamb, Pudding & Souse and Macaroni Pie are crowd-pleasers.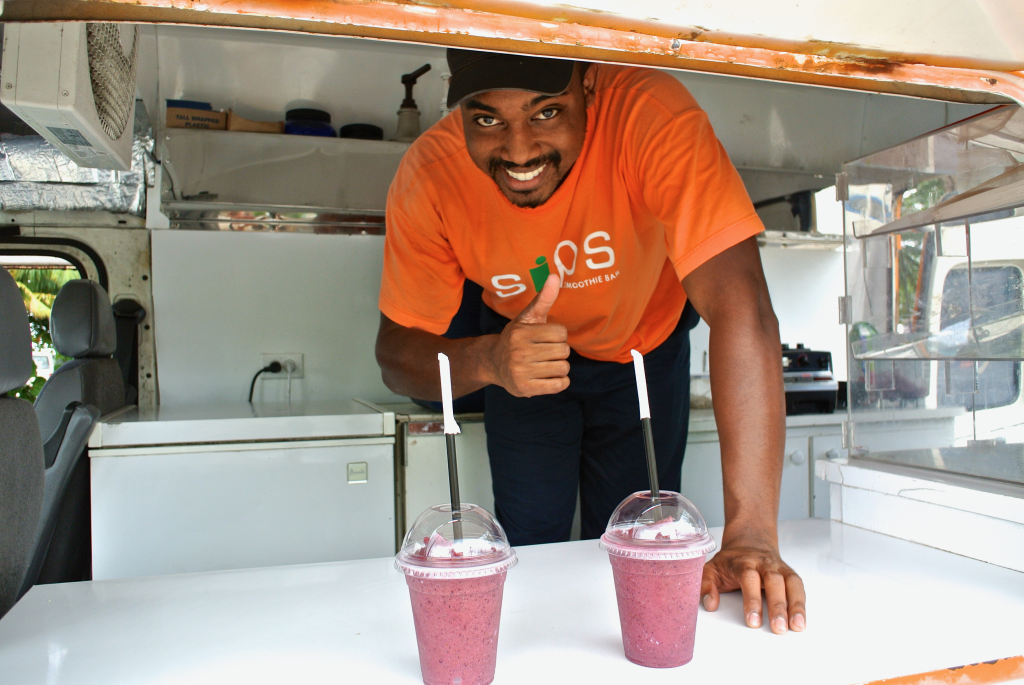 Food for Love & Love for Food!
The van at Accra Beach usually has a line up of loyal customers, both tourists and locals who love the banter as much as the food. They love the love that's served with the food. "What you want, my love?" and "You're welcome, my darling!" are dished out freely with every serving!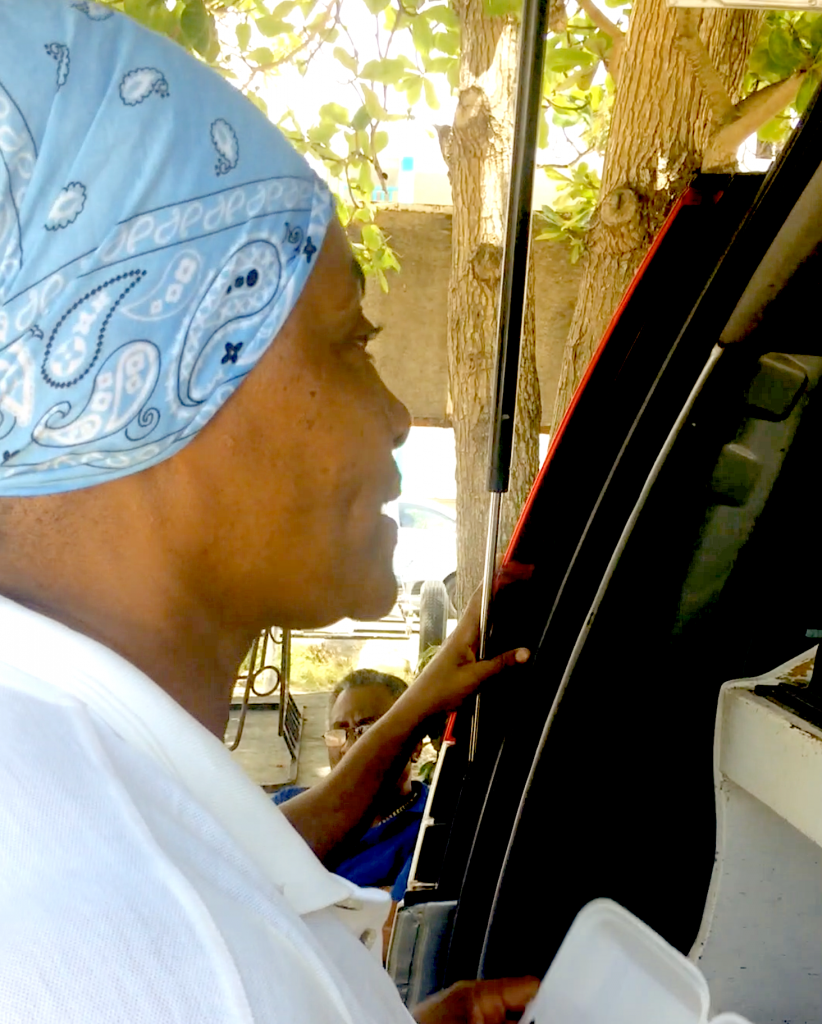 Ingenuity Makes the Day
Barbadians are ingenious! Give them a dilapidated old Truck and they will make it into something smart and useful. They made the famous Barbados Vintage Bus from a flatbed lorry. All the kitchens on wheels are made locally from converted trucks or flatbed frames. The #1 Bajan Old Time Bus was a remarkable success that led to Barbados manufacturing buses like it for other islands. The Jamaica Grill was another local production, as was the Fed By Nature canteen and several others like it.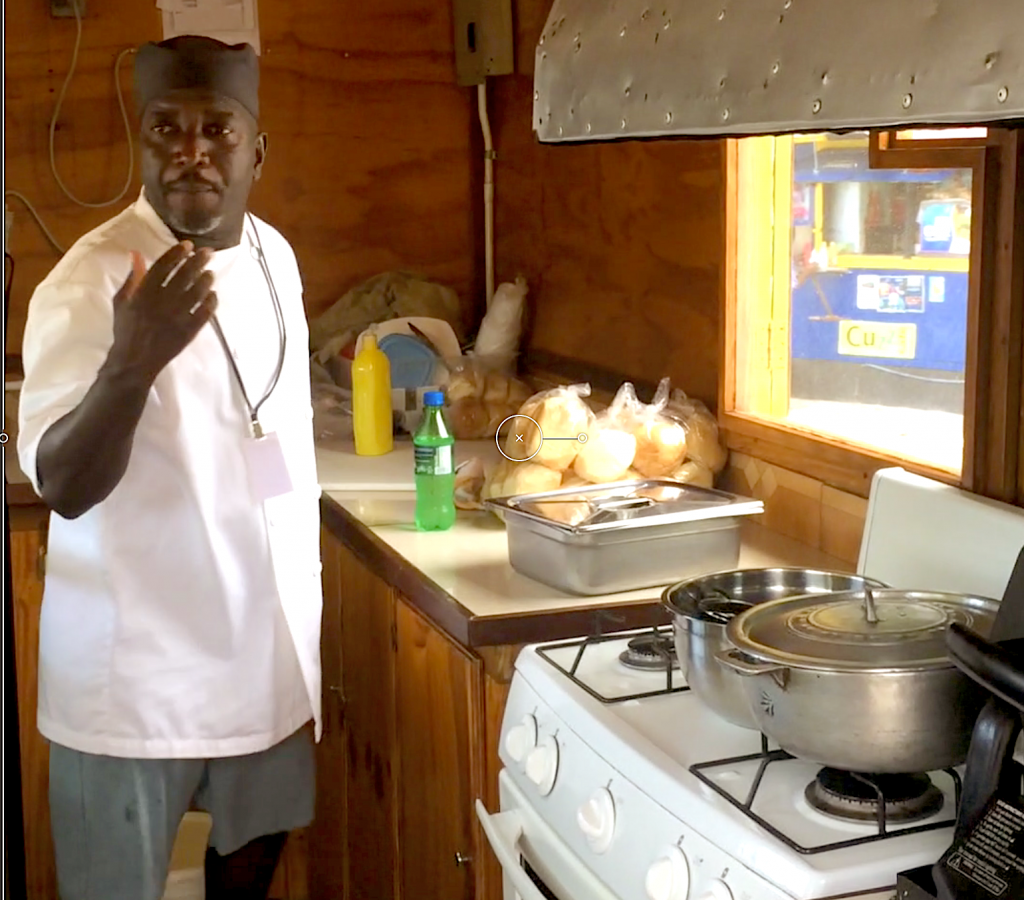 The vans are often home-built with local craftspeople outfitting the van with storage, iceboxes, hot plates and in some cases generators. Food Vans don't usually require plumbing and electricity. That is something that requires expert advice and a high level of professional work – of the level you will see in the Barbados Kitchen Trucks. Vans makeovers, by comparison are mostly a handyman's job.
Licensing, Health & Safety
All food vendors, street merchants, vans and trucks have to be inspected, approved and licensed by the authorities before they go on the road. The current licenses will define where they are allowed to operate. They are inspected often by the heath authorities and will be shut down immediately if they fail to maintain heath standards.
Location, Contacts & Timelines
Contacts for Featured Gourmets on Wheels

Jackos Food Stop – Victor Headley
Accra Beach Soul Food Van – 248-7431
Sips Smoothies – 262-9109 https://instagram.com/sipssmoothiebar
Fed By Nature – Rendezvous (Gas Station) 263-9114
Jamaica Grill – Pebbles Beach (Wed-Fri 11am-6pm & Sat-Sun 10am-5pm) – Mark Dates
Mr. Delicious – Miami Beach


---
Find your ideal Barbados accommodation...