One of the virtues of staying in a self catering hotel or apartment in Barbados is that you have the freedom to move at your own pace and dine as you want. More importantly, having your own kitchen gives you the opportunity to experiment with local foods and enjoy the local markets and fishermen's villages as you mingle to find dinner.
Here is a story of how an impromptu trip ends up with an unexpected encounter and fresh pot fish for dinner.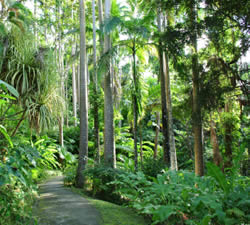 It started as an an enjoyable afternoon journey in the interior of the distinctly charming island of Barbados, to the eco and nature area of Hunte's Gardens, Harrison's Cave, Welchman Hall Gully, Turners Hall Woods, Flower Forest, and even as far afield as Andromeda, although that is a little off the track for a short trip.
We took the ABC Highway and turned North-East at Warrens, past Lion Castle Polo Estate in St. Thomas and on to Flower Forest. From there we drove around St. Andrew and got a bit lost. But you are never ever away from a primary road or coastline and there are always friendly Bajans around to give you directions.
The interior of the island is hilly and in some places very much like a jungle. We passed rainbows and streams in lush woody areas and headed down to Belleplaine, picking up some delicious home grown, brilliant red and plum-like tomatoes for dinner. Eleven plum fruit for US$5. We would go by Six Men's Bay later on and meet the fishermen bringing in their catch in the afternoon.

We stopped and talked with Sarge who was cleaning fish. He organized for us to buy some cook; a red snapper type reef fish. We paid US$9 for 2 pounds of fish and Sarge cleaned and scaled them for US$2.50.
Sarge allowed us to take some video of his deft work on the fish. "I don't usually let anyone take pictures," he reminded, after I got the video camera from the automobile.
I had asked him if we could take some shots and he immediately asked, "Why?" I would like to put them on our website at Barbados.org I claimed. "So the entire world can see me?" he replied. I had to concur that many individuals might see the photos and video; it's a popular Barbados internet site and it is seen all over the world, and it might be helpful for you and helpful for Barbados. Sarge did not like the concept at all, so we dropped it. Later on he concurred and added: "How you come by Six Men's? Must be you are angels and God sent you cause I never let anyone "tek" photos of me.".
See this YouTube Video on Barbados Holidays:  People  and Lifestyles – Sarge >>> |
More Like This See Barbados Travel Channel
Sarge, like many Bajans, is weary of having his image seen all over the world, specifically if another person is making cash off of it.
It's important that you ask if it's OKAY and make sure to explain exactly what you are going to do with the images. In our case we try to provide local professionals, vendors and small scale business owners complimentary exposure on our Barbados Tourism Encyclopedia.
We know that visitors to Barbados take pleasure in meeting genuine local residents and getting insights into their very special method of life. As they state, "life was not invented in Barbados, it was just refined right here". In many cases visitors will seek out individuals we feature and some will work with them.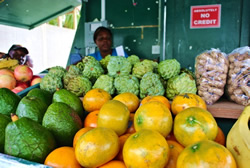 Visit Six Men's Bay, have a beer at "Man's Beer Bar" and get some scrumptious fruit at the stand just across from it. If you are staying in a self-catering villa or apartment, select some fresh fish at Speightstown and cook it.
Pot fish cleaned by Sarge is ready to dip in flour and fry in a little butter and oil. It's tasty. Cook is a strong fish that is chewy – the other pot fish we bought was  softer and we liked it much better. For a small fish for frying, it's hard to beat flying fish.
Sarge told us the biggest fish they caught was a marlin, it topped the scales at 1,000 pounds. It had to be cut in half to bring it ashore.
A really long time ago, in the days of whaling, when Speightstown was a major city of Barbados and its main fishing port, they captured a whale and tied it to the jetty. Every man jack,  woman and child ran to the jetty with pots and pans and collected supper and lunch for days, it was a significant event.
On this night, 2 pounds of fresh pot fish with tomato salad were on the menu. We got even more vegetables and fruits (avocado and sugar apples) at the stall across from 'Man's Beer Bar' and had supper on our balcony under the stars.

Six Men's Bay is an attractive fishing village. In the old days, the local craftsmen built fishing boats right here and there are still a couple of wooden boats built along the shores a little way up toward the Fish Pot Restaurant. It is steeped in stories of fishing and boat building and has become popular with tourist and residents. Some luxury villas and holiday homes have recently been built in the area.
Make sure to see this genuine life fishing town and enjoy its people, the landscapes and the natural charm.
MORE like this  See http://www.barbados.org/distinctively-charming
---
Find your ideal Barbados accommodation...