Barbados.org, official website of the Barbados Tourism Encyclopedia, was completely redesigned and relaunched in January 20113. It has been in operation since 1996.
The new design showcases the unique qualities that set Barbados apart from other island destinations and make it one of the best places to live, work and play.
The essence of Barbados is that it is very distinctive; offering world class restaurants, hotels and resorts yet also offering charming small hotels and affordable bed and breakfasts.
There is an old world charm in everything, even in the most elegant and sophisticated hotels and resorts. You cannot escape the natural charm of the island and its people with their fun way of speaking and their endless energy and love of life.
Distinctively Charming describes what Barbados is when compared to other places.  Its beaches, restaurants and hotels are considered amongst the best in the world, but it is also distinctive in geology, heritage, culture and lifestyle.
See video on this at http://www.youtube.com/watch?v=bxyFTAZEQQg
The site is designed to reflect the new branding of Barbados as the most distinctively charming island in the Caribbean.  It strongly features local lifestyles, from the fishermen casting their nets along the inshore reefs to crafts and community. Many new pages have been added such as rum tours, chattel village shopping and local recipes. We continue to add new pages, photos and videos daily.
Designed for all
With so many travelers using smartphones, iPads, tablets and mobile devices, we have also designed the site so that it works for everyone no matter what device they choose to browse the site with. It's called responsive design as it is made to recognize what device is being used and it will automatically reconfigure its menus, layout, content and navigation for that specific device. Hundreds of pages have been amended to achieve this.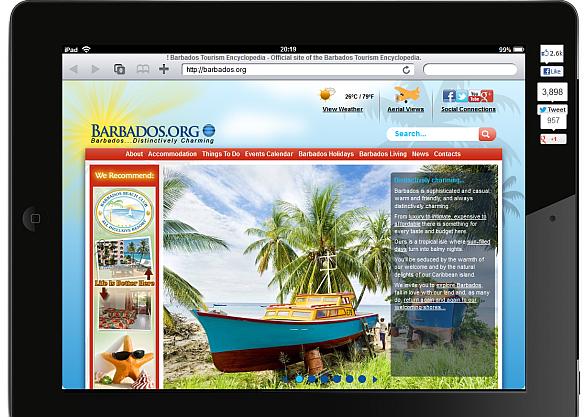 As you might imagine, this is not a trivial task. Responsive Web Design (RWD) requires a lot of work, planning, testing and coding. But already we are hearing from hotels and tourism operators in Barbados that their information is reaching out to many more travelers who can now easily access and share the same information that desktop users can.
We Love to Hear From You
If you are a traveller using this site we would love to hear from you. We have added a Facebook comment option to many pages so that you can share information with your friends and we would like to hear how this works for you and what else we can do to make Barbados.org even better!
Navigation
Barbados.org provides information and services that help travelers search for, find, get quotes, save and book accommodation, events and activities directly with the hosts of your choice. The site has thousands of pages which we have organized with a set of top menus and a top level search to help you find what you are looking for.  We also have shopping systems, themed holidays, smart maps and a holiday planning service to assist you in finding, saving information and booking.
See Barbados Tourism Encyclopedia: Responsive Web Design and Brand Marketing
More about the brand Distinctively Charming see http://barbados.org/distinctively-charming/
---
Find your ideal Barbados accommodation...