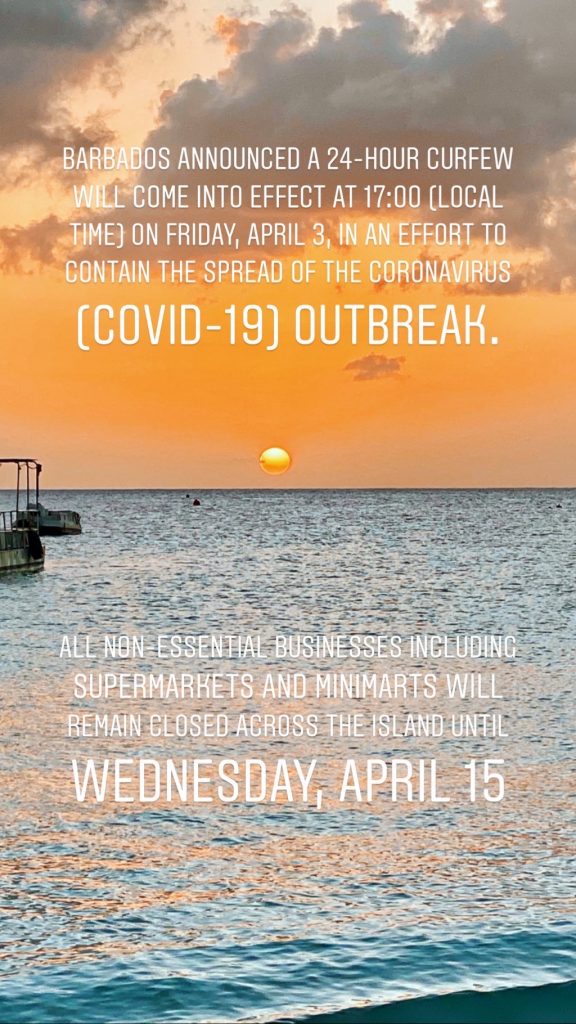 Thankfully the Curfew is Over & Tourism Resumes Carefuly
Get the latest on air travel flights and protocols with our east to read Covid traveler essentials here
The Days Before Covid Travel
Acting Prime Minister, Santia Bradshaw, confirmed that the Barbados Curfew will be in effect from 8 p.m. on Friday, April 3rd. Persons will now be allowed on the streets for legitimate business only, inclusive of the purchase of food from village shops or medication from pharmacies.
Source: The Nation
Barbados Curfew & COVID Spread
The curfew is enacted to contain the spread of COVID-19. It is a nominal measure to stop people getting into contact with anyone who might have symptoms or be a carrier. For visitors who are wintering in Barbados in holiday homes, villas and apartments, they are consoled by the fact that they are still in paradise and life by the beach is a better choice, even with the inconvenience of the close-down of restaurants and supermarkets.
Supermarkets Closed
Supermarkets and mini marts are to close at 8pm on Friday, April 3rd.
The government and industry are planning to create systems to facilitate online orders and deliveries during the coming weeks. People will be able to shop online or by telephone and email. Delivery by taxi, pickup or company vehicle will be established to contain the spread.
Many visitors and locals have elected to skip going to the supermarkets in the few hours before they close on April 3rd. Reports are that people are packed like sardines in lineups for groceries.
Curfew Shoppers at Popular Discounts. Source: The Nation
The wise are waiting for the online facilities and deliveries to be ready.
Stay Home Order
The government orders everyone to stay home. For now we are prisoners in paradise. That's not so bad when Barbados is a top vacation destination with some of the best beaches in the world. See Cruise Ships Moored Off Barbados Beaches
Acting PM, Bradshaw, advises that all parks and beaches are closed. "You can only be on the road to go to the pharmacy, to seek medical assistance or if you are part of any of the essential services, or if you are doing business with any of the businesses that are exempt.
All restaurants will be closed until midnight April 14th but bakeries and bread depots will remain open.

Essential Services Exemptions
"A number of our essential service providers will need access to these facilities, as well as persons who will want to legitimately visit pharmacies and other exempt services. Village shop owners may remain open during this period but no more than three people are allowed to congregate," Bradshaw advised.
Limited Opening After 2 Weeks Lockdown
Opening April 15 – May 4 by Name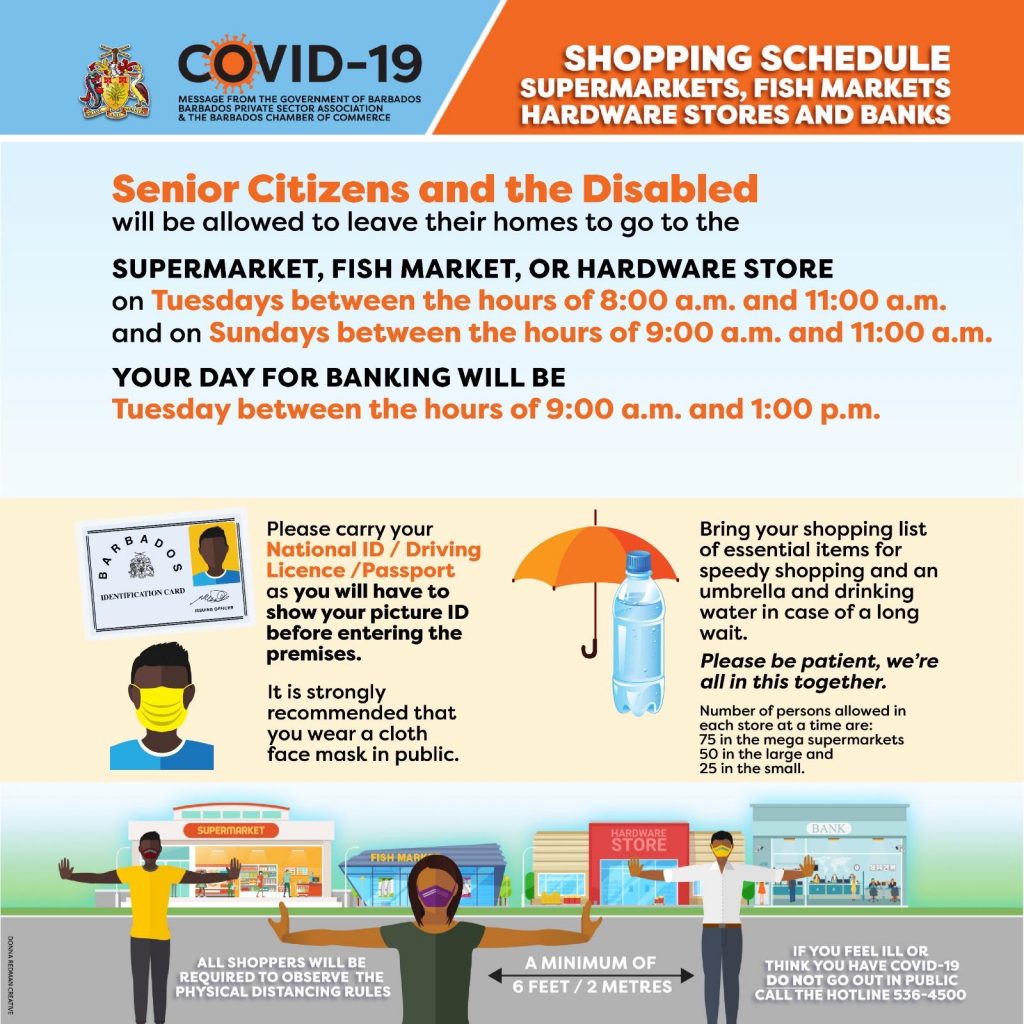 Above is the example of opening hours for seniors. Shoppers are allowed to shop at different times based on their surnames. Those with names starting with C to F are allowed to shop at supermarkets, fish markets and other permuted places Wednesdays from 8 am to 11 and on Saturdays from 1 to 4PM. Banking is allowed on Wednesday from 1 to 4PM.
Shopping Time Table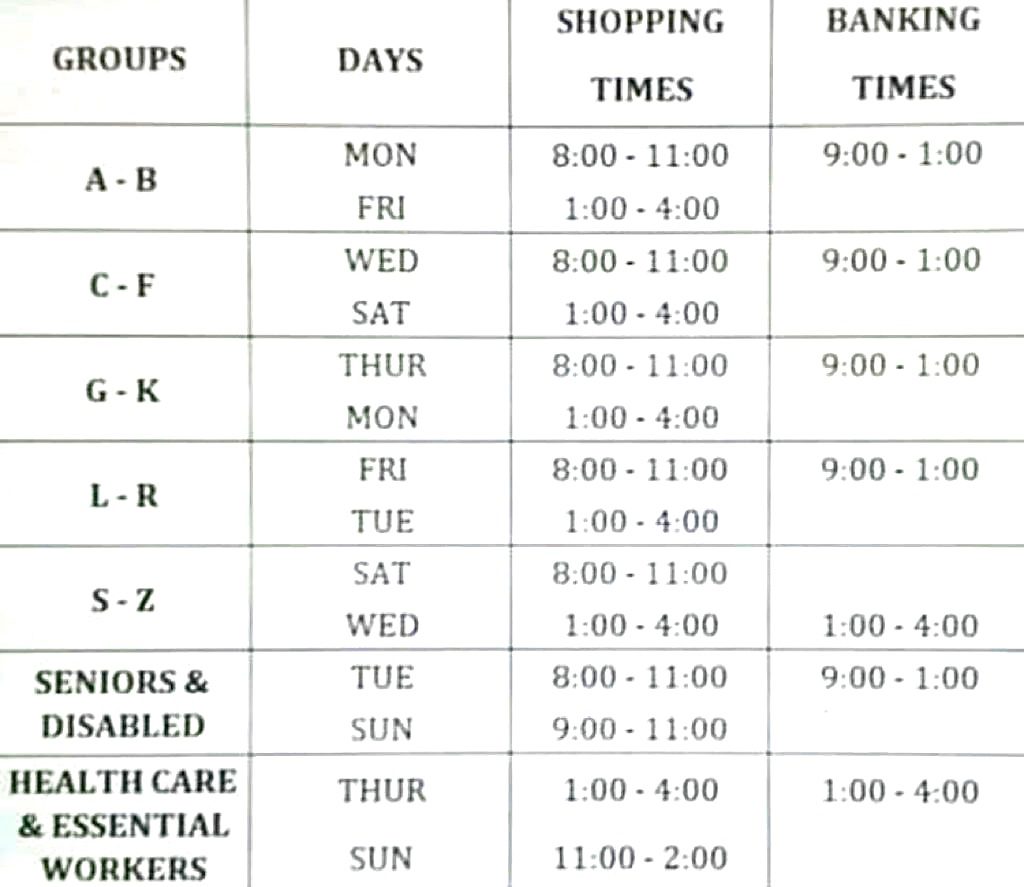 See the full schedule at Barbados Government Information Services
Voice of Barbados Covers Curfew
Related links
Tips on what to do and how to cope in the Curfew
---
Find your ideal Barbados accommodation...