Announcing Rogues In Paradise – the latest Book on Barbados is an amazing story of its people, culture, heritage, and history.
Rogues In Paradise By Ian R. Clayton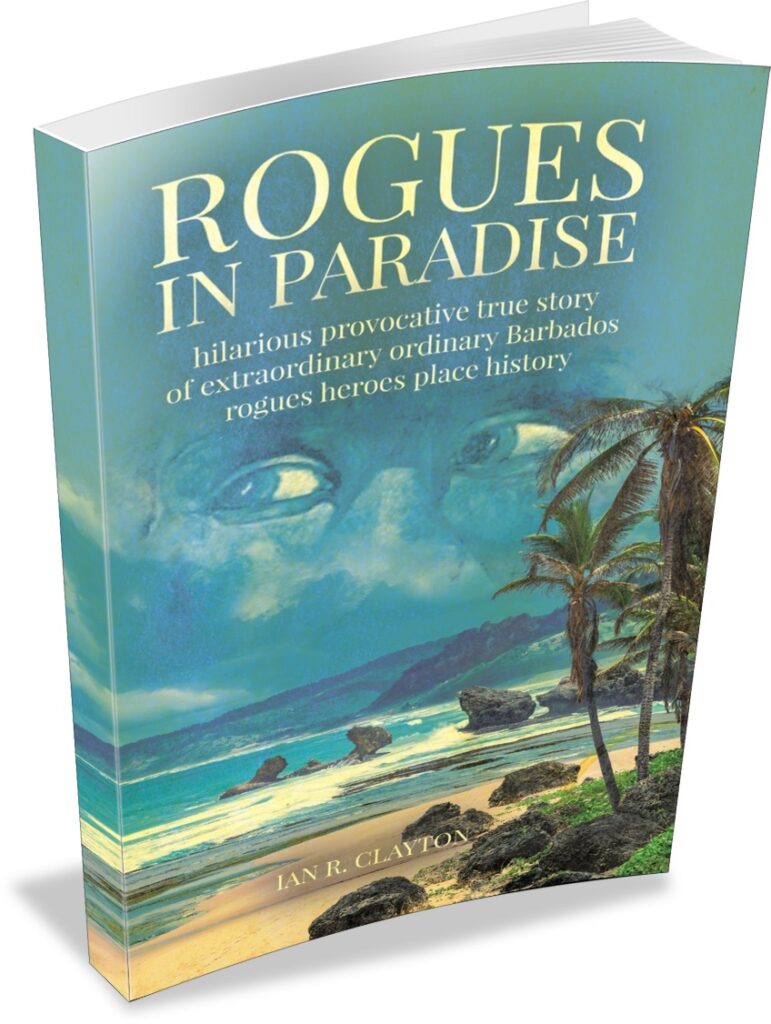 A Lovely 5-Star Book Review Must Read
A gripping, charming, utterly unputdownable paean to Barbados, this book brims with wit, elegance, and subtle humour. – Savyasachee Jha, Reedsy
I have to start out with some effusive praise of the writing. I've read several boring slice-of-life vignettes and travelogues, but this piece of writing was anything but. I can't quite place the style, but I was able to get a hint of Roald Dahl's writing in Boy and the first few chapters of Going Solo in the rhetorical flourishes applied to the characters; and a bit of Ruskin Bond's flow in the poems and rhythms applied left, right and centre. Each character jumps off the page, their images as vivid as the pictures painted by Woolly Hewitt or Darla Trotman.
Overview of Rogues in Paradise
Rogues in Paradise celebrates the Afro-British Caribbean Culture of Barbados—and the quirky, fun-loving ordinary, and extraordinary people who call it home. In this thoughtful, funny, and provocative debut essay collection from tourism expert Ian R. Clayton, readers find themselves thrust into an evolving world: One that begs exploration of its history, its people, and its culture. Bajans come to life in vivid colour through a series of character vignettes—from their electrifying personalities to their mischievous mechanisms for survival to their quiet intensity. Each character jumps off the page in images as striking as the pictures painted by Woolly Hewitt or Darla Trotman.
With warmth and humour the stories explore humanity, heritage, and cultural responsibility. It speaks to a larger psychological question of character: how can they be so resilient after 300 years of slavery? Interwoven history and lucid storytelling move the narrative outward from personal observation, providing a rich backstory on how people navigate contemporary life against a complicated past.

At its core, Rogues in Paradise redefines what it means to rise for one and as one in pursuit of the common good. It celebrates cultural identity, friendship, and adventure but, more than that, it celebrates the human spirit in us all.
Ian R. Clayton BIO
Born in Trinidad, Ian R. Clayton studied hospitality and catering in the UK before working as a hotel management in Barbados in 1965.
On completing a degree in commerce and computer science and building an award-winning technology company in Canada, Clayton returned to Barbados in 1995. He founded the Barbados Tourism Encyclopaedia and built technology and systems to support hotels and tourism operators in marketing their destinations globally.

International travels and keen insight colour the stories Clayton shares. These are not your typical tourism travelogues, but accounts of little-known people and history— flavoured with Clayton's signature admiration and humour.
Rogues in Paradise is Ian's first non fiction novel. It follow 20 years of travel blogging, writing and publishing. Titles include Travelersinsights, AllCast Media, Markhat, Computrers in Education, Sensitivity Mapping, and several books: Website, Digital Media, Marketing Hotels and Tourism and How to Build Your Business Online. http://ianrclayton.com
Absolutely Barbados By Julian Armfield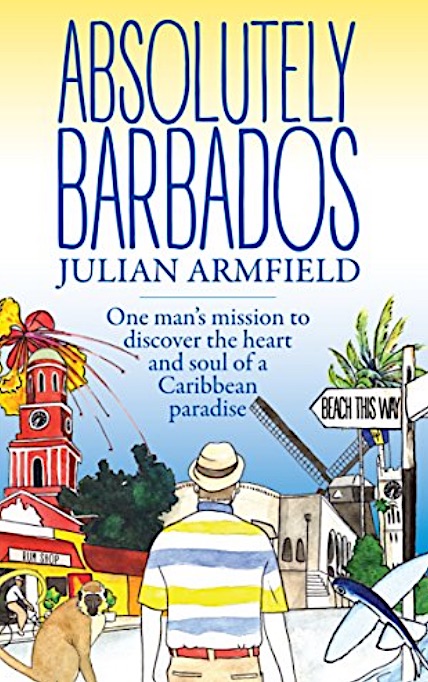 Julian Armfield, a veteran BBC broadcaster who chose to live in Barbados, has published a moving story of Barbados and its people, places and character. As he says, he was "on a mission to discover the heart and soul of a Caribbean Paradise". He has done that with Absolutely Barbados, a book full of character and insights into a way of live that is absolutely unique. The book is a beautiful account of his adventure of discovering the soul of this Island Paradise.
Five Star Reviews on Amazon
5.0 out of 5 stars Absolutely Brilliant! A must for any visitor to Barbados… Fabulous witty, charming, informative read
I absolutely loved Absolutely Barbados. What a brilliant book! For anyone who has a good knowledge of the island this will enhance your experience and take you to places you think you know but don't. For the first-time visitor, it is a must-read and will enhance your holiday greatly. The author writes with style, wit and charm and has captured the very essence of Barbados from its people to its places; the island leaps into life on the page and will make you want to board the next flight out. I have been coming to the island for more years than I care to admit and thought I knew it all but undiscovered hidden gems abound throughout the chapters and Julian writes quite beautifully. I'd had the book on my kindle for some time and overheard a pool-side conversation raving about it. In moments, I was reading… Thank you, Julian, for producing a great book, worthy of the island, I hope bookstores the world over stock this and many happy readers discover Absolutely Barbados."
Stellar praise indeed… and there is much more! 
Gina M. Thames
says: "
Truly the best travel book I have read."
Not Your Typical Travel Book
Absolutely Barbados is not your typical Travel Book. It is not just about the sights and sounds, food, attractions hotels, things to do and people to meet. It is a personal story of an adventure – packing up a life in an English village and the vast landscape of the United Kingdom, with its world-renowned theater, arts, museums, culture, heritage and towering architecture to move to a tiny island miles away, lost in a Caribbean Sea. Or so it may seem!
Not Your Typical Tropical Island
As he says, the island was passed over by the Spanish and unlike other islands in the Caribbean, it was not fought over much, being a bit remote and not in the line of islands. He was invited to attend a lavish party by Bill Marshall, legendary race horse training and World War II hero, who had made Barbados his adopted home. The invitation led him to a voyage of discovery from which he "would never return".  "It's Far Away," he would think as he contemplated life sipping run punches under the coconut palms. But life here was about to surprise him in many ways.
The book is about the discovery and the fascinating surprises and insights to a totally different way of life and a people who never cease to amaze. The book is a fun to read as Julian shares his adventures and insights with a light and witty style.
Author's BIO
"Author and BBC broadcaster Julian Armfield came to Barbados for ten days, met and married a Bajan beauty, and stayed forever. He quickly discovered that life on a vibrant Caribbean island was going to be hugely different to that in a sleepy English village. Narrated in an infectious upbeat rhythm, Absolutely Barbados follows the fiercely curious author around the island as he explores and embraces every aspect of Barbados' lifestyle, culture and heritage, meeting a host of beguiling characters along the way. "
Get the book Amazon   | Website  AbsolutelyBarbados.com
Related Links and Places
Travel Literature Today
How Travel Literature Evolved
Rogues in Paradise – A Barbados Treasure
Rogues in Paradise the Book
Barbados Guides
7 Wonders of  Barbados
Lifestyles Of the Artisan & People of Barbados
Barbados Beaches
Points of Interest
Barbados By Map
Barbados by Drone
Plantation Homes and Stately Places:
Heritage Hotels By Character
Open House Program – Garden Tours
---
Find your ideal Barbados accommodation...