Last week St.Lucia had their first ever underwater wedding. On Thursday, September 12, 2019, at Royalton Saint Lucia, diving enthusiast Julie and her new husband Sean, literally took the plunge with the first ever underwater wedding in the Caribbean.

The bride explained that she attended a friends wedding in St.Lucia in 2017, and during that visit her then fiance completed his open water check-out dives. During the second annual dive fest in 2018, she began thinking about the possibility of having an underwater wedding. It would be the perfect way for the couple to celebrate their love for each other and their love for the ocean.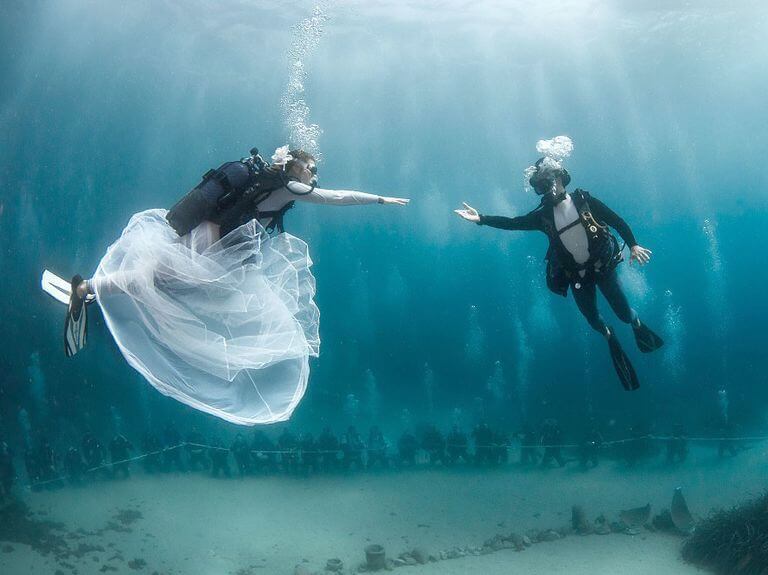 The wedding took place during the third annual St.Lucia dive festival which was held between September 8th-15th, 2019. Dive fest is a week of activities to celebrate St. Lucia's underwater world and marine life. Activities during the week are inclusive of dives, snorkeling, photographic competitions and a lionfish cooking demonstration. For those persons accompanying relatives or friends to the Dive Fest who are not interested in diving, there are biking, swimming, sailing, kayaking, bird-watching and of course lounging on a beach chair and soaking up some sun.

The wedding ceremony which was facilitated by St. Lucian company Eastern Caribbean Diving. Just like a traditional land wedding, the guests entered the water first. The ones who were certified in scuba diving, were equipped with wet suits and weights which ensured they would be planted firmly on the ocean floor to avoid them floating or moving around too much. They took their places on either side of the aisle, while other guests snorkeled and watched from the surface. Following the guests was the groom and the officiant, who took their places under the arch which read 'Julie and Sean', and last to enter the water was the bride who was accompanied by her maid-of-honor. This stunning bride was actually wearing a knee-length bridal gown, a long flowing veil and carrying a bouquet of flowers.

Though, Julie and Sean could not verbally say their vows, the officiant held up signs with the vows written on them, to which the bride and groom would respond with their own signs which read "I do". This wedding was not only a first for St. Lucia but also for the Caribbean.

In Barbados, even though there has never been an underwater diving wedding, Atlantis Submarines' "how deep is your love" wedding package offers couples the chance to get married onboard the submarine. Servaral catamaran cruises also offer wedding packages which allow persons to get married on the ocean.
---
Find your ideal Barbados accommodation...