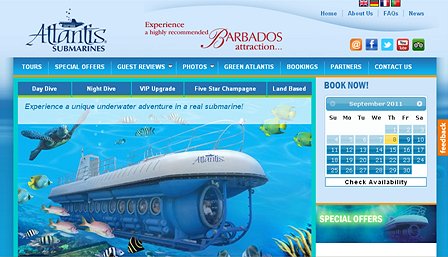 Sept 8th 2011 – The Shallow Draught, Bridgetown Barbados – Atlantis Submarines Barbados is proud to announce the launch of its new website http://barbados.atlantissubmarines.com
The new site is a standalone Atlantis Submarines Barbados site with information specific to the island and operation including new tour options, regularly updated tour descriptions, downloadable foreign language brochures, integrated social media sites and a booking engine with live inventory!!! "Our website sales are up over the last two years by over 40 % and we must take advantage of a growing trend for persons who fly to Barbados to plan their complete holiday prior to travel" says General Manager, Roseanne Myers. "The website remains the core of our web marketing strategy and we will be aggressively seeking reciprocal links with all our major industry partners."
http://barbados.atlantissubmarines.com is a work in progress from here on in and we welcome all feedback and have included a feedback tool on the new site. Journalists and news media practitioners can always check our News Features for current and archived stories. Students can also keep checking our Green page for educational and human interest stories. We have integrated our TripAdvisor page

 under guest comments to capture feedback on one of the world's leading consumer driven sites. The growing Facebook

 fan base can easily move from one to the other and provide up to the minute commentary. Our YouTube channel will soon be fully populated with at least five promotional videos with foreign language subtitles.
Atlantis Submarines Barbados operates two 48 passenger submarines that provide the opportunity to see the underwater world during the day and at night, in safety and comfort. For more information visit our new website http://barbados.atlantissubmarines.com, join us on Facebook

 ; or send email enquiries to bdsres@atlantissubmarines.com
---
Find your ideal Barbados accommodation...