Barbados Surfing
When the world was created, Barbados was given an abundance of potential for becoming a surfer's paradise. The island's location far out in the Atlantic Ocean allows waves to travel thousands of kilometers on the bottom of the sea to finally unload all the power it developed during its long journey over Barbados' coral reefs.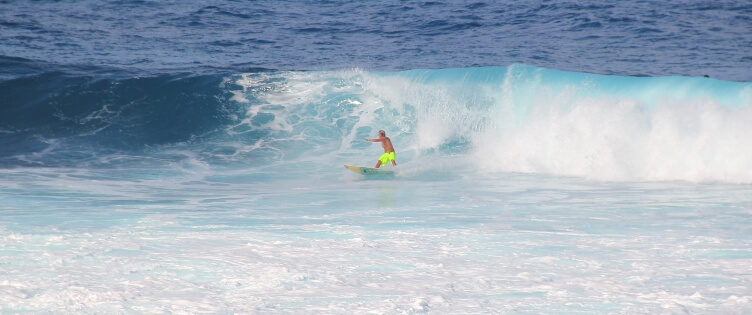 As Barbados is a coral island, a coral reef stretches all around Barbados' coastline, providing for unlimited surfing conditions all over. No matter whether a swell approaches the island from a northerly or westerly direction or whether it's moving in from the east or the south, Barbados is guaranteed to have surf somewhere along its shores at almost any given day of the year.
The east coast of the island, especially Bathsheba and it's famous 'Soup Bowl', is ideal for more experienced surfers. The west and south coasts offer great conditions for those learning to surf and for less experienced surfers. It's always a good idea to hook up with a local surf instructor or guide as they know the best spots (including some secret ones!) and can give you advice on where to avoid.
Local Surf Instructors and Guides
Accommodation for Surfers
If you are visiting Barbados to do some surfing, consider staying at a nearby accommodation on either the East or South coast of the island. Try accommodation on the East Coast to be near to what is considered the top surf spot on the island, with its large and powerful waves. Accommodation on the South Coast will be perfect if you want to be near the coast known for its variety of surfing conditions from one end of the coast to the other, to suit every surfers taste!
South Coast Accommodation
What an endorsement!
Read the New York Times article 'Surf's Up in Barbados' to discover why Kelly Slater calls the Soup Bowl in Barbados 'one of the top three waves in the world'!
East Coast
The East Coast is the No.1 surfspot as far as power and size of the waves is concerned, a spot named Soup Bowl is internationally recognized in the surfing world.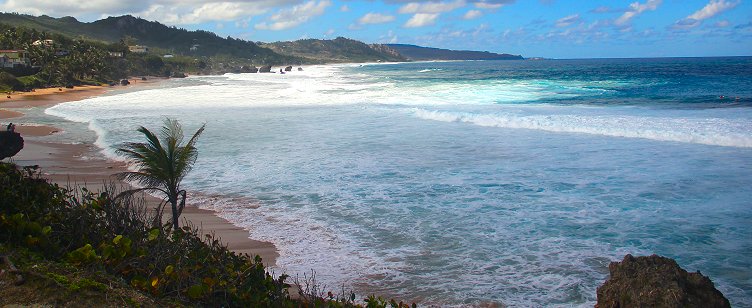 North-West Coast
The northern end of the West Coast of Barbados isn't any milder when things are happening. Duppys and some other breaks in the north west can live up to Hawaiian standards easily. While some breaks claim a little effort to get to, the waves of Maycocks roll out on a lovely white sand beach and are easier to access.
West Coast
Further down the West Coast there is the point break of Gibbs and the shallow reefs of Tropicana and Sandy Lane. Watch out at Tropicana, don't even try in low tide when you don't want to become sliced up for Sushi…………….as it almost happened to the author of these lines……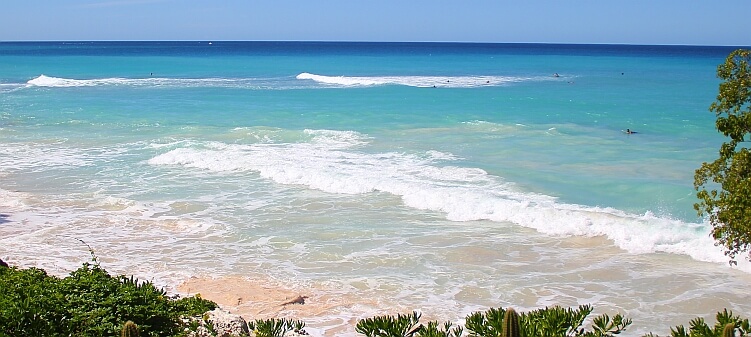 South Coast
Along the South coast of Barbados, surfers find what they are looking for at many spots along the way down to Southpoint on almost any given day of the year. From Brandons near Bridgetown to Accra Beach the size of the waves is moderate. So it is at Freids where the cleanest wave one could dream of rolls out on Cotton Bays' beach. Closer to the rocks short boarders are in their element and right next to them longboarders find their dream conditions.
Right around the corner is South Point, home of many surfing competitions in the past, with a fairly powerful and clean wave.
The shorebreak at Inchcape on Silver Sands Beach is a pitchy shorebreak and can fit all sorts of descriptions, from mushy to super clean, but it always is quite powerful. It seems to break 365 days a year and is the last break to check when nothing is happening anywhere else.
At Inchcape, also Boogie Board heaven begins. The same shorebreak is where they have to arrange with the surfers and share the waves with them. Quite a spectacular to watch for Inchcape guests from their terraces when surfers and boogie borders try to show off their skill and tricks and locals and visitors alike try to outdo each other. And that's a daily event…………..
Silver Rock, Long Beach, Foul Bay and Crane Beach as well as Sam Lord's castle, all those beaches make a year round boogie Board arena.
Don't you think that sounds like surfers paradise? Believe me it is………………Come and check us out at Inchcape in Silver Sands at the most southern point of Barbados where surfers created surfing and windsurfing heaven at Inchcape.
View surfing and windsurfing locations...
Looking for a Barbados surfing vacation? Click here for the perfect accommodations, activities and packages