Barbados Surfing
When the world was created, Barbados was given an abundance of potential for becoming a surfer's paradise. The island's location far out in the Atlantic Ocean allows waves to travel thousands of kilometers on the bottom of the sea to finally unload all the power it developed during its long journey over Barbados' coral reefs.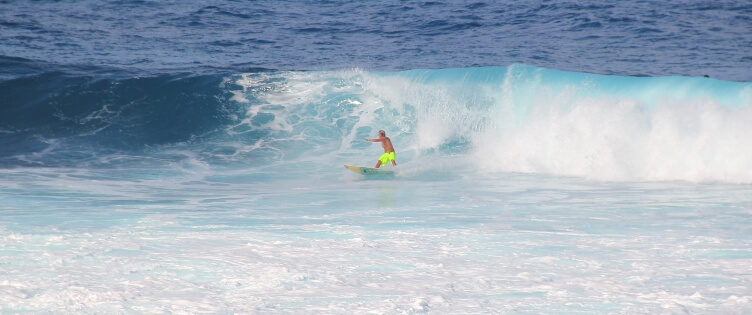 As Barbados is a coral island, a coral reef stretches all around Barbados' coastline, providing for unlimited surfing conditions all over. No matter whether a swell approaches the island from a northerly or westerly direction or whether it's moving in from the east or the south, Barbados is guaranteed to have surf somewhere along its shores at almost any given day of the year.
The east coast of the island, especially Bathsheba and it's famous 'Soup Bowl', is ideal for more experienced surfers. The west and south coasts offer great conditions for those learning to surf and for less experienced surfers. It's always a good idea to hook up with a local surf instructor or guide as they know the best spots (including some secret ones!) and can give you advice on where to avoid.
Local Surf Instructors and Guides
Join the local surf instructors at Dread or Dead Surf School for lessons, instructions, and surf tours!
Accommodation for Surfers
If you are visiting Barbados to do some surfing, consider staying at a nearby accommodation on either the East or South coast of the island. Try accommodation on the East Coast to be near to what is considered the top surf spot on the island, with its large and powerful waves. Accommodation on the South Coast will be perfect if you want to be near the coast known for its variety of surfing conditions from one end of the coast to the other, to suit every surfers taste!
South Coast Accommodation
What an endorsement!
Read the New York Times article 'Surf's Up in Barbados' to discover why Kelly Slater calls the Soup Bowl in Barbados 'one of the top three waves in the world'!
Top 10 Surfing Beaches in Barbados
Freights Bay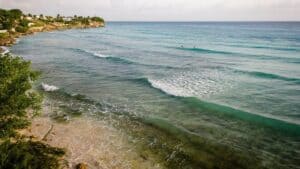 When it comes to surfing the South Coast waves, it doesn't get much better than Freights Bay which can be found in Christ Church, just above the fishing village of Oistins. You can gain access to this year-round surfing hub via its steps, which lead to the sweeping view of Freights' pristine waters, though these are usually not recommended for swimming.
They are perfect for surfing, however, with offshore waves created by its sheltered bay. Freight's Bay is also known to be the longest left break that Barbados' has to offer which forms barreling, white-capped waves but because there is so little current, the break packs just enough power for a beginner or intermediate stage surfer. This is why many local surf schools make their way to Freights Bay to conduct their classes as wave breaks are calculated at an estimate of 4 feet of water. These ideal surf conditions here are created by the southeast swells garnered from South Point. The long waves can become very hollow with swells of over 6 feet. Despite its year-round reputation, the peak surfing season at Freight's Bay occurs between November and April. This can be accredited to the average winds of between 14 and 25 knots which increase to the higher end of that spectrum after December. 
South Point Beach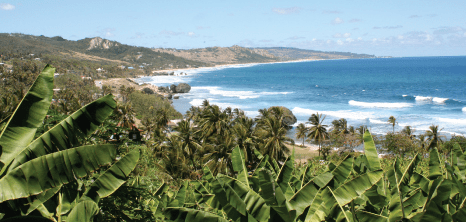 South Point, as the name suggests, is located in Christ Church on the southernmost point in Barbados. South Point Beach usually has medium waves with multiple peaks. This makes it an easy task to avoid the many other surfers that typically populate this area. It is a popular surfing spot, chiefly among intermediate and advanced surfers because the beach picks up any swell from the Atlantic Ocean, thus giving them the ability to be quite powerful. Usually, South Point is the first to receive the south-east swell, and is the first place keen southside surfers check for swells from the Atlantic Ocean.  South Point provides exhilarating waves with a lot of undertow and is characterized by its hollow left reef break. This wave is described as long and fast as compared to its shorter right break counterpart. The surf spot is protected by the wind, and the best surfing experience can be gained at mid to high tide when the wind is onshore and the current is strong. 
Soup Bowl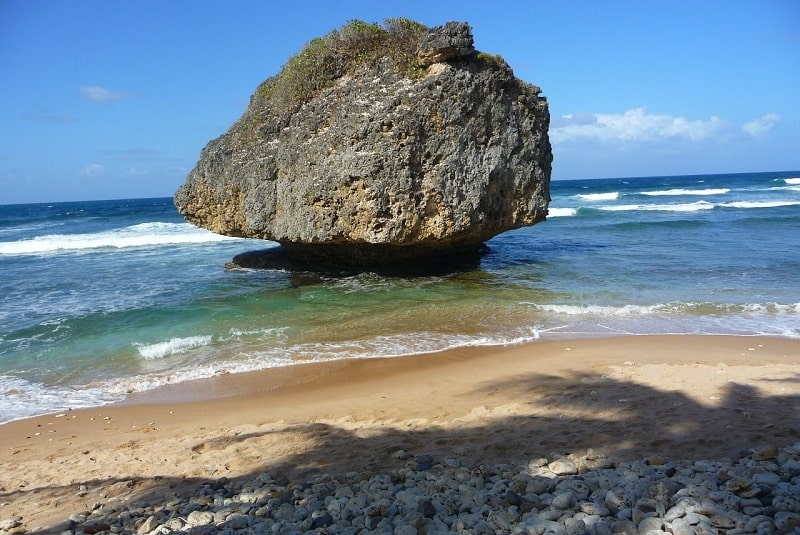 As has been touted by expert surfers on and off of the island, Bathsheba's Soup Bowl is one of the ultimate surfing locations in Barbados. A top choice for frequent local and even international surfing competitions, Soup Bowl has its reputation as the most consistent wave in Barbados. The foamy East Coast surf is mainly a right wave that best serves intermediate and experienced surfers due to its tendency to heaviness when the swells are big. The wave break occurs at about 7 feet in, on a rock ledge jutting out into the Atlantic Ocean. The best time to catch the barrelling reef wave is at low or mid-tide on a North swell. Depending on what kind of experience you prefer, going earlier in the morning might be better, as there are fewer crowds and it is not as windy. Surfers are cautioned to beware of the sharp sea urchins which appear underwater, as well as the occasional barracuda. Soup Bowl's smallest waves occur in the months between July and August, during which the average wave height is about 2-3 feet, which increases to 3-6 feet by September through October. Right throughout these months, great tall waves can be produced, but the best months fall between November and May, when the winter North swells start coming in bringing with them the famous, heavy right barrels previously mentioned. 
Silver Sands Beach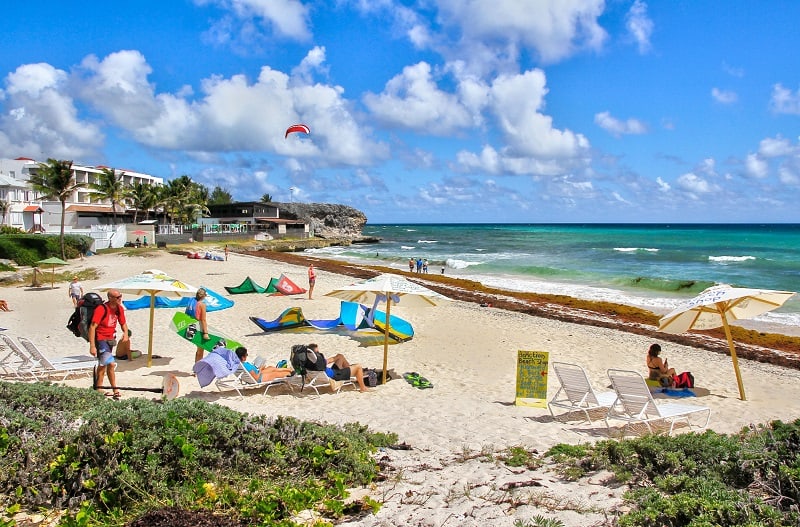 While characteristically rough these waters are definitely well suited to the intermediate level surfer, Silver Sands Beach caters to anyone seeking an adventure-filled watersporting experience. Shortened colloquially to just 'Silver Sands' it is a South Coast beach in the Christ Church parish, which lives up to its name with its fine, white sands. The quarter-mile-long beach receives the southeast swells, making the waves quite impressive. This does not so much apply to regular sea bathers, however, who are advised to be cautious of the undertow. Ironically, these are exactly the conditions that make Silver Sands beach an excellent surf. It is primarily a right break and these rights are considered hollow, especially during the winter months with tradewinds looming just off the coast. Still, both surfers and swimmers should note that there are unfortunately no beach facilities or amenities like bathrooms or chairs at this beach, neither is there a lifeguard on duty. Silver Sands Beach compensates for its lack of amenities with shaded picnic benches, a playground for children to enjoy, as well as a WiFi-enabled gazebo, so there are more than enough reasons to pay this beach a visit. For the avid surfer though, the strong winds and currents are reasons enough.
Tropicana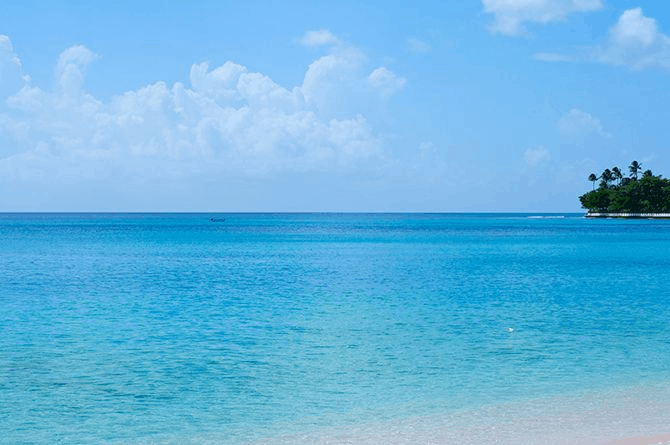 Tropicana is a lesser-known beach in Barbados situated on the platinum West Coast of the island in St.James  Otherwise known as St.Alban's Beach, its accommodations have been described as "first-class" due to the well-maintained beach facilities.  For this reason, it attracts stand-up paddlers, surfing-enthusiasts watching surfers from the close shoreline, and of course, surfers themselves. Though beaches on Barbados' Western coastline are known for being relatively tranquil, surfing at Tropicana Beach requires a great deal of expertise. It is a barreling left surf with a shore break which can become dangerous with size. The barreling left reef break is known to be extremely shallow compared to other breaks on Barbados' coastline. Brave wave-shredders who select Tropicana to test their skills are strongly warned against the perils of surfing at low tide on this stretch of beach. Not only do sharp rocks appear at low tide, but coupled with the fire coral at the bottom of the reef break, serious injuries will be of consequence if these cautions are not heeded. Another word of warning is not to go right when surfing this break due to the unforgiving nature of the dry reef. Following these words of caution you are guaranteed to have a great surfing experience here.
Accra Beach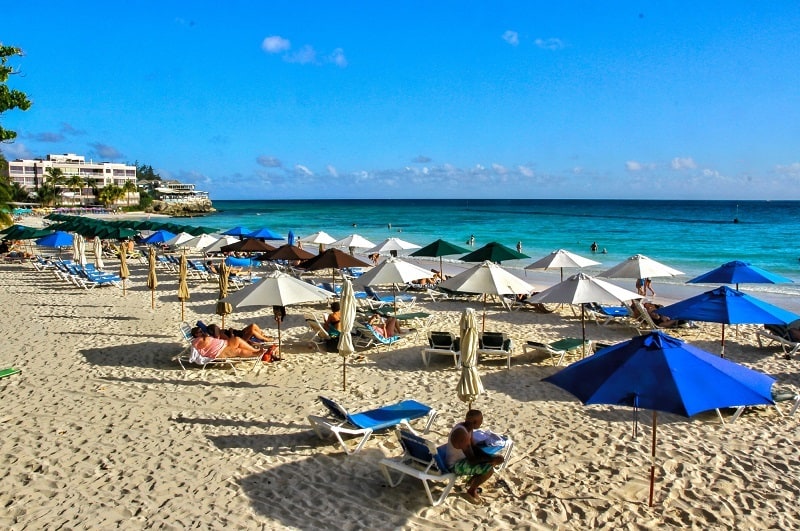 Though it does not have as much to offer as other Southcoast beaches Accra, also known as Rockley Beach features moderate waves suited for a limited range of watersport activities like surfing. It is usually a well-populated beach, not only because of the mesmerizing glassy waters but also because of its proximity to other beach amenities such as; bathrooms, chairs for rent, lifeguards on duty, and accessible public transportation.  Locals and tourists alike can enjoy a day of calm swimming or thrilling waves depending on the tide. Surfers will enjoy waves at Accra Beach best during the winter and spring months since this beach has an exposed beach break, offering both left and right breaks which are very sensitive to the conditions. The average sea temperature here is 30°C which is quite warm, so no wetsuit is required to ride these South Coast waves, which have an equal chance of coming in from local wind swells as well as groundswells further out. Wind direction is at its prime when it is of Northern origin, but swell direction peaks from the polar opposite end, the South.
Brighton Beach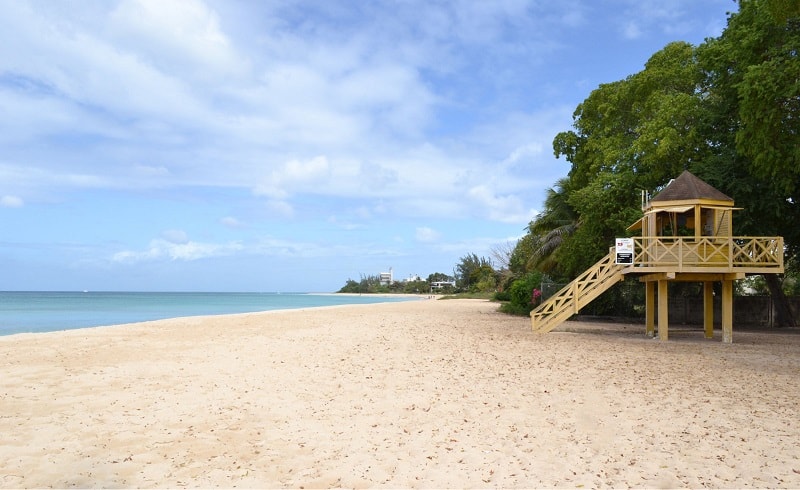 Brighton Beach is an inclusive and welcoming beach to surfers of every skill level and therefore is a popular beach option among surf schools in Barbados. This beach is another South coast occupant, just on the outskirts of the capital city, Bridgetown. The waters here are known to be very calm, doing service to swimmers and sea bathers. Surfers will consider that it is one of the go-to surf breaks on the southern coastline with prized consistency. Like Accra, it is an exposed reef break but is almost always a long left break, reeling for an estimated 75 meters. Surfers are asked to take heed when coming into the beach from over the reef because of how quickly it becomes shallow, and are also cautioned to steer clear of rocks and sea urchins The left break, which is said to be better than the right, also features a sandy end which allows for easy entry and exit. The ideal swell angle to catch at
Brighton Beach comes from the South East,  as well as at low tide for the optimum surfing experience.  Offshore winds are from the North and North-Easterly directions. Brighton is most popular in the winter months when the waves are serving the long left breaks that it's famous for, but spring is another good time of year to go wave-shredding here. 
Drill Hall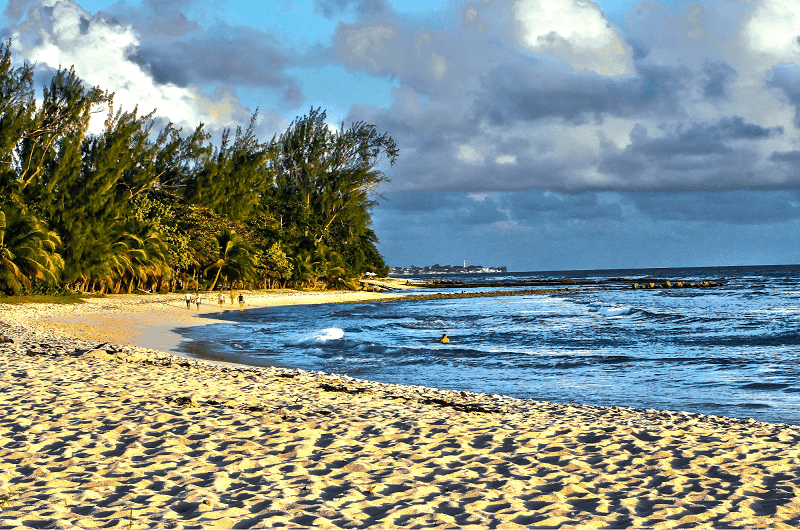 If you're a beginner looking for an ideal place to learn how to surf, or perhaps a tutor looking to help others master the exhilarating sport, the gentle waves  Drill Hall Beach on the South West coast in St.Michael  will not leave you disappointed. It was popularized by virtue of being one of the most diverse beaches on the island with regard to sea conditions, which are suitable for a plethora of activities including swimming, boogie boarding along with the watersport in question. The beach is backed by a canopy of pine trees which is greatly appreciated by the sea bathers and casual picnic go-ers. It is also merited as one of the best surf hubs the island has to offer, with clean left breaking waves. The sandy reef favours beginners. Because it is so popular among surf schools, locals and tourists alike, there may be up to 30 or more people trying to catch Drill Hall's waves at once. The beach tends to serve lefts ranging from 1 all the way to 8 feet when there is a windy south swell but there are equal chances for groundswells and local wind swells too. One forewarning to consider when surfing here is the rocks and coral which go together with the sandy reef underfoot.
Mullins Beach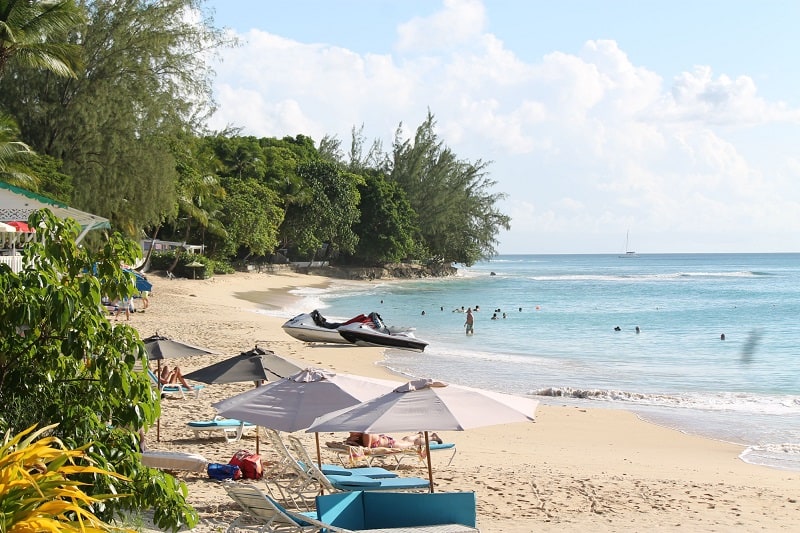 Though not the longest stretch of golden sands Barbados has to offer, this West Coast dweller is one of the most lively beaches in St.Peter, with jet ski rides and glass-bottom boat tours available during the day, and an effervescent beach bar and restaurant at night  Mullins Beach has plenty of lounge chairs with shady umbrellas available, but there is no lifeguard on duty. Despite this, it is still an ideal surfing location for beginner to intermediate surfers. The best conditions reported for surfing at Mullins occur during the island's dry season which lasts from May to October since it is the best time of year for waves as well .To avoid getting caught in dangerous rips, opt to surf when the forecast says the West-Southwest wind direction will combine with the East-Northeast swells, making for the best surfing conditions. It is yet another exposed reef break that delivers some measure of unpredictability in that it offers both lefts and rights. Mullins Beach experiences a favourable combination of groundswells and wind swells.
Maycock's Bay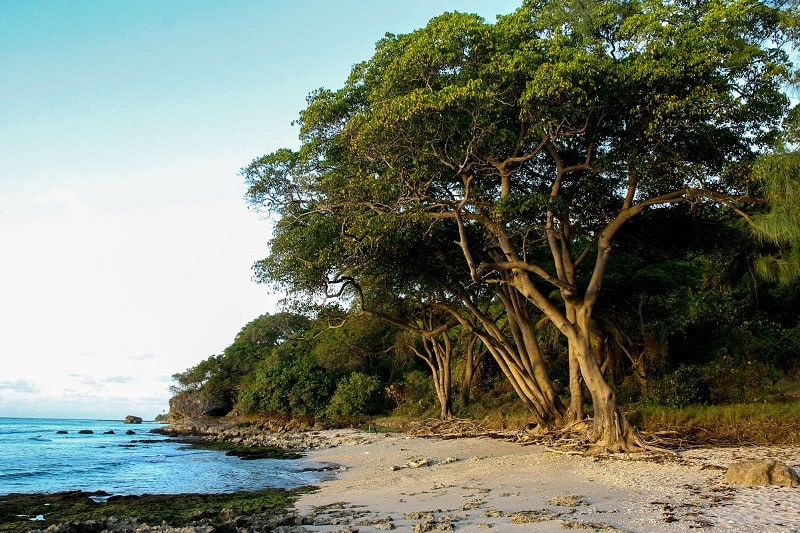 This watersports haven is located between Six Men's Bay and Harrison's point in St.Lucy and is one of the few beaches in this Parish despite it being surrounded by water, at the northernmost part of the island. It can be a bit tricky to find without directions, even for locals, and the only way to get there is by car. Once you arrive and are faced by the cliff that you must descend, it becomes clear that is completely worth it. For most, the reward might be the panoramic views of the bay from the clifftop, while for others it would most likely be the peaceful serenity that engulfs them in this private, secluded area. For adventurous kitesurfers and surfers, however, the real prize is the hallow low tide waves coupled with the low likelihood of having to share the waves with any crowd. The always-offshore trades handle big northside swells with ease on an outside section. A small, exposed beach with a long right reef break, Maycock's Bay serves its intermediate surfers best. The surf here is quite reliable, but winter and spring are the best times of year to try your board at the waves, especially if there is a north swell and East Northeast wind directions. Groundswells and wind swells are equally likely. No different from most other surf breaks on the island, hazardous rocks and coral should be avoided at all costs.
Altogether, the east coast of the island, especially Bathsheba and it's famous 'Soup Bowl', is ideal for more experienced surfers while the west and south coasts offer great conditions for those new to surfing or those less experienced. It's always a good idea to hook up with a local surf instructor or guide as they know the best spots (including some secret ones!) and can give you advice on where to avoid.
East Coast
The East Coast is the No.1 surfspot as far as power and size of the waves is concerned, a spot named Soup Bowl is internationally recognized in the surfing world.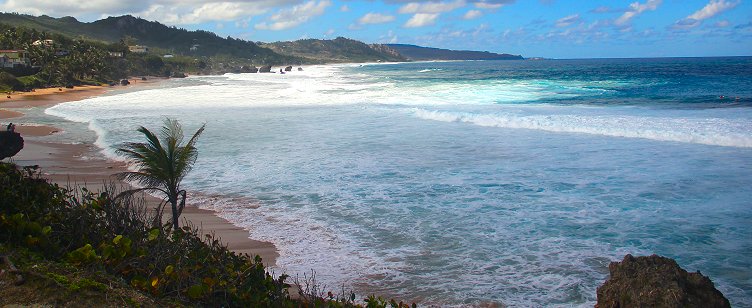 North-West Coast
The northern end of the West Coast of Barbados isn't any milder when things are happening. Duppys and some other breaks in the north west can live up to Hawaiian standards easily. While some breaks claim a little effort to get to, the waves of Maycocks roll out on a lovely white sand beach and are easier to access.
West Coast
Further down the West Coast there is the point break of Gibbs and the shallow reefs of Tropicana and Sandy Lane. Watch out at Tropicana, don't even try in low tide when you don't want to become sliced up for Sushi…………….as it almost happened to the author of these lines……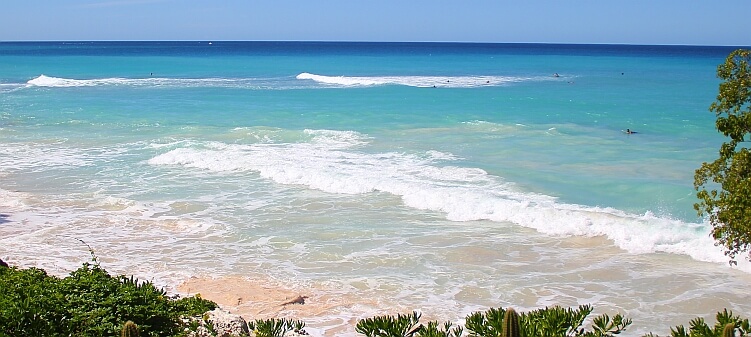 South Coast
Along the South coast of Barbados, surfers find what they are looking for at many spots along the way down to Southpoint on almost any given day of the year. From Brandons near Bridgetown to Accra Beach the size of the waves is moderate. So it is at Freids where the cleanest wave one could dream of rolls out on Cotton Bays' beach. Closer to the rocks short boarders are in their element and right next to them longboarders find their dream conditions.
Right around the corner is South Point, home of many surfing competitions in the past, with a fairly powerful and clean wave.
The shorebreak at Inchcape on Silver Sands Beach is a pitchy shorebreak and can fit all sorts of descriptions, from mushy to super clean, but it always is quite powerful. It seems to break 365 days a year and is the last break to check when nothing is happening anywhere else.
At Inchcape, also Boogie Board heaven begins. The same shorebreak is where they have to arrange with the surfers and share the waves with them. Quite a spectacular to watch for Inchcape guests from their terraces when surfers and boogie borders try to show off their skill and tricks and locals and visitors alike try to outdo each other. And that's a daily event…………..
Silver Rock, Long Beach, Foul Bay and Crane Beach as well as Sam Lord's castle, all those beaches make a year round boogie Board arena.
Don't you think that sounds like surfers paradise? Believe me it is………………Come and check us out at Inchcape in Silver Sands at the most southern point of Barbados where surfers created surfing and windsurfing heaven at Inchcape.
View surfing and windsurfing locations...
Looking for a Barbados surfing vacation? Click here for the perfect accommodations, activities and packages