Barbados Waverunner (Jetski) Rental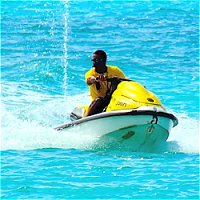 Jetskiing in Barbados
Waverunners or Jet Skis as they are sometimes called have become one of the most popular sports throughout the world; from the warm waters of the Caribbean to the cooler waters of Europe and beyond.
What could be better than exploring the beautiful crystal clear coastal waters of Barbados than by Waverunner which are available for hire from most bays, beaches and coves around Barbados.
The Yamaha XL700, currently the most popular personal watercraft in Barbados, seats up to three (3) people, has a 701cc engine and, is fun and easy to operate. The large chined hull design make them stable and will rarely turn over unless driven recklessly.
Renting a Wave Runner
Duration of rentals are usually in 30 minute increments and prices will vary in and out of season. As a guide $50.00 to $55.00 US dollars for 30 min. would be an average price in peak season.
All reputable operators will provide appropriate life vests and comprehensive instruction for all hirers. It is recommended that the rider wear a waterproof watch so as not to exceed the agreed rental time.
Although Waverunner rental is fun, easy,and a memorable experience, it is important to operate your craft with due care and attention. Give respect to swimmers, snorkelers, divers, and other larger craft.

Waverunner Rental Do's & Don't's
Have Fun & Keep Waverunner Rental Safe In Barbados......
ALWAYS
listen carefully and adhere to all instructions given by your Operator
look behind the craft before making sharp turns
stay at least 200 Metres from the shore line unless entering or exiting the rental start point
keep a safe distance from all other craft
NEVER
operate craft under the influence of drugs or alchohol
enter restricted areas market with buoys
enter and exit your rental start point at more than 5mph
drive close to reefs or breaking waves
operate a PWC if you are under the age of 16 Years