Barbados Glass Bottom Boat Rides
Get a glimpse of the underwater world around Barbados as you glide over clear waters on a glass bottom boat!

Your local guide will take you to the best spots for viewing shipwrecks, reefs, and colorful tropical fish. It's like having your own personal aquarium, but with an ever-changing and breathtaking view! Most tours also include a stop for snorkeling with sea turtles. Guests who prefer not to get wet will enjoy remaining on board and viewing the turtles through the large glass panel.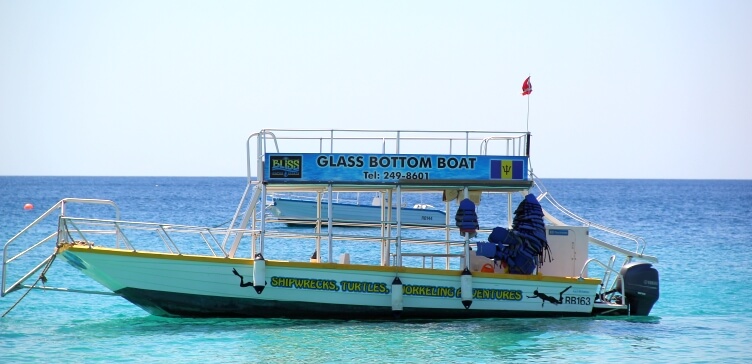 Unlike snorkeling or scuba diving, a glass bottom boat ride does not require any special skills or training. It is a safe and comfortable way to explore the ocean without getting wet. Glass bottom boat rides are perfect for people of all ages, including families with young children, elderly people, and those who may not be comfortable with swimming or diving. Everyone can enjoy the beauty of the ocean from the comfort of the boat.
Glass bottom boats are available from watersports operators at several beaches along the west coast, especially in the Paynes Bay and Holetown areas. Just signal or call out to them from the beach and they'll pick you up. Alternatively you can book ahead to avoid disappointment.