Barbados Kitesurfing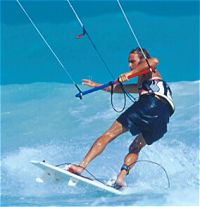 Windsurfing has gone through a turbulent development since it's invention by Hoyle Schweitzer and Jim Drake back in the seventies. Jim Drake had experimented already in the early stages of windsurfing with a wing, more shaped like a hangglider. A little later I had the pleasure of testing a wing developed by the innovative sail designer Andre Lefebvre. Time has gone by and the wing became a kite which finally turned out to be an appropriate alternative to accelerate a surfboard using the windpower.
Since kitesurfing really started taking off about two years ago, the still relatively small kitesurfing community learned quickly that special circumstances are needed to make kitesurfing a safe and enjoyable experience.
Barbados isn't only blessed with it's unique windsurfing conditions, it also has the most ideal kitesurfing beach possible. I would probably not mean to exaggerate to say that this might be one of the most ideal kitesurfing beaches in the world. Just a couple of minutes away from Inchcape a gorgeous, tropical, mile long beach with slightly onshore winds has all the requirements for the ideal kitesurfing spot:
It's lonely, it's a beautiful white sand beach, hardly any person around. The wind blows slightly onshore, all the safety you want as a kitsesurfing beginner. Many days or parts of days there is ideal windforce for kitesurfing.

Flat water inside the reef, waves breaking on the outside reef for the more experienced.
Upwind from the three major windsurfing beaches, an additional safety factor
Upwind also from the Oistins Bay and Maxwell coast, possible day trip destinations for a downwind run.........
What else can you ask for........
mankind's all time dream to be able to fly? Well, kitesurfing has given us another means of coming closer to that dream and we at Inchcape on the most southern tip of the Caribbean island of Barbados are determined to make your kitesurfing vacation a time to be remembered........
Where to stay for kitesurfing