Sam Lord's Castle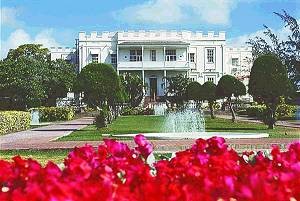 Located in the parish of St.Philip, Sam Lord's Castle was a beautiful Georgian mansion built in 1820 by the notorious buccaneer Samuel Hall Lord, known as 'Sam Lord'.
Legend has it that Sam Lord acquired his wealth by plundering ships, which he lured onto the reefs off the coast, by hanging lanterns in the coconut trees. Captains mistook these lights for Bridgetown and wrecked their ships on the reefs.
Read about Sam Lord and the other pirates of the Caribbean who called Barbados home!
The property was run as an exquisite hotel for many years and has now re-opened as Wyndham Grand Barbados Sam Lords Castle Resort & Spa, an elegant, all-inclusive resort.
The beach at Sam Lord's Castle is a beautifully secluded one that is perfect for picnics and just relaxing.