Colony Club Beach
Located along the west coast, in the parish of St.James, is the "Colony Club" (also known as "Heron Bay") beach.
Numerous watersports activities, including jet skiing, parasailing, kayaking, and catamaran sailing are available from the beach and special areas are roped off to ensure your safety and comfort while swimming.
Towards the northern end of the beach are shallow reefs where snorkelers can spot colourful tropical fish and other marine life.
You may even come across a nest of the hawksbill and leatherback turtle on the shore. Visit the nearby Folkestone Marine Park for diving and snorkeling.
Heron Bay, a magnificent coral stone house sitting on the beachfront, has hosted many famous guests, including former US President Bill Clinton, former British Prime Minister Sir Winston Churchill, and several movie stars. The house was built in 1947 by the late Ronald Tree, a member of the Winston Churchill British Cabinet.
The house is set on 20 acres of manicured gardens, including a small lake, and the property is sometimes opened as part of the Barbados National Trust's annual Open House Programme.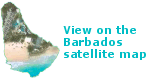 Attractions and points near Colony Club Beach
Other Barbados attractions and points of interest within 1 mile of Colony Club Beach

- accommodation and activities with rates, photos and direct online quotes and bookings.


Recommended Barbados Beach Activities