Holetown Methodist Church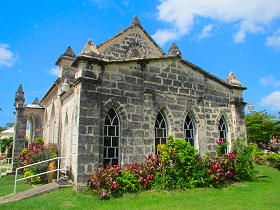 Holetown Methodist Church is located in the historic town of Holetown, the first British settlement on the island.
This small church was erected in 1912, although Methodists were known to hold services in nearby areas during the 1800s. The architecture includes several Gothic features such as the belfy and corner pinnacles.
Colourful tropical gardens surround the church, making this a quiet oasis in the middle of a bustling area.
If you are staying in the Holetown or Sunset Crest areas, then Holetown Methodist Church is within easy walking distance. The local congregation is very welcoming to visitors.