Freshwater Bay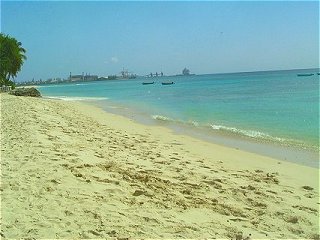 Just to the south of Paradise Beach along the west coast of Barbados you will find this quiet area known as Freshwater Bay.
The name really says it all - here you will find calm crystal clear waters that are perfect for swimming and snorkeling.
The occasional fishing boat and jet ski pass by, with the catamarans heading down the west coast further out to sea.
To the south is the Harbour and you can watch as the cruise liners make their way in and out.
The northern part of the beach is almost always quiet while to the south you will find more activity as you approach the Malibu Beach Club and Visitor Centre. Here you can learn about local rum production with a tour of the distillery and enjoy a range of watersports activities.
Attractions and points near Freshwater Beach
Other Barbados attractions and points of interest within 0.75 miles of Freshwater Bay

- accommodation and activities with rates, photos and direct online quotes and bookings.



3Ws Monument [

map

] [

website

]

3Ws Oval [

map

] [

website

]

Barbados National Archives [

map

] [

website

]

Batts Rock (surf spot) [

map

]

Batts Rock Beach [

map

] [

website

]

Brandons Beach [

map

] [

website

]

Brighton Beach [

map

] [

website

]

Carlton Cricket Ground [

map

]

Carlton Supermarket [

map

]

Cockspur Beach Club & Visitor Centre [

map

]

Errol Barrow Centre for Creative Imagination [

map

]

Esso Gas Station/Automart (Black Rock) [

map

]

Lazaretto Gardens [

map

] [

website

]

Lord Combermere (shipwreck) [

map

]

Paradise Beach [

map

] [

website

]

Royal Bank (University Drive) [

map

]

Royal Bank Cash Counter (Esso Tiger Market) [

map

]

University of the West Indies (Cave Hill Campus) [

map

]

Walmer Lodge Apartments [

map

]