West Indies Cricket: 3Ws Oval
The 3Ws Oval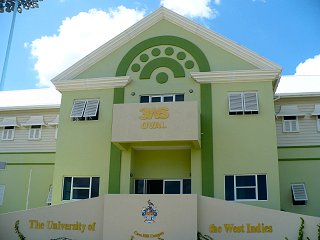 The 3Ws Oval, located on the grounds of the Cave Hill campus of the University of the West Indies, is named in memory of three great Barbados and West Indies cricketers - Sir Frank Worrell, Sir Clyde Walcott and Sir Everton Weekes.
The 3Ws Oval is the newest addition to Barbados' cricket grounds and usually hosts local and regional matches, along with warm up matches for touring teams. Four warm up matches in the 2007 World Cup were also held here.
The ground can hold approximately 2000 spectators and also features an indoor cricket school with practice nets and a small gymnasium.
Basketball and tennis courts adjoin the Oval while the CLR James Cricket Research Centre is just opposite.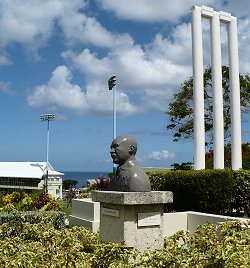 On the eastern end of the ground up a slight incline is the West Indies Cricket Walk of Fame. This leads up to the gravesites of Sir Frank Worrell and Sir Clyde Walcott and a lifelike bust of Sir Frank. The halls of residence for University students, located just behind the bust, is also named in his honour. A monument to the 3Ws is located in the park opposite the University.
An imposing statue of cricket stumps with bails overlooks the Oval and leaves no-one in doubt as to the purpose of this ground!
When a match is playing the Oval is alive with excitement however it can also be a very quiet and peaceful place, especially in the early morning and when the University is not in session. Then it is a place for reflection on the lives of three great cricketers and gentlemen and reminds us of the importance of the game of cricket to Barbados and to all the people of the West Indies.
Clip from a night cricket game held at the 3Ws Oval, UWI, Barbados.